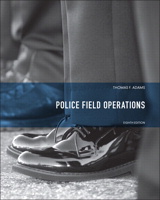 Description
For courses in police field operations, police systems, and law enforcement procedures.
The authoritative text in police field operations.
The result of over two years of revisions, Police Field Operations, Eight Edition brings this essential text up to date with the most recent developments in police practices and procedures. For years, Adams has served as the textbook standard for police departments and academies and academic programs across the country. Written from the perspective of a working police officer, the text presents the real-life scenarios an officer is likely to encounter while on-duty. It focuses on community policing, details how and why certain procedures are used, and provides instructional techniques from leading police academies.
Table of Contents
Chapter 1: Introduction to Patrol Operations Objectives
Chapter 2: Community Policing
Chapter 3: Basic Patrol Procedures
Chapter 4: Frequently Handled Assignments
Chapter 5: Crimes in Progress
Chapter 6: Traffic Direction and Enforcement
Chapter 7: Special Challenges
Chapter 8: Arrest, Search, Custody, and Force Options
Chapter 9: Police Communications
Chapter 10: Witness Observation and Perception
Chapter 11: Interviews and Interrogations
Chapter 12: Preliminary Investigations
Chapter 13: Reporting and Records
Chapter 14: Officer Survival and Stress Reduction
Purchase Info ?
With CourseSmart eTextbooks and eResources, you save up to 60% off the price of new print textbooks, and can switch between studying online or offline to suit your needs.
Once you have purchased your eTextbooks and added them to your CourseSmart bookshelf, you can access them anytime, anywhere.
Buy Access
Police Field Operations, CourseSmart eTextbook, 8th Edition
Format: Safari Book
$41.99 | ISBN-13: 978-0-13-508974-3