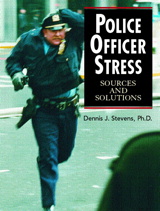 Description
For courses in Police and Society, Introduction to CJ, Police Stress, and Police Organization and Administration.
Based on surveys with over 500 officers, this textbook examines police officer stress from all angles. It takes an objective view and looks at occupational stress, on the job stress, critical incident stress, and stress produced from the police organizational structure. Two assumptions drive this work: current events in American history are changing police work forever and officer stress is actually a symptom of an antiquated police organization. Throughout the text, it looks at the officer's and the organization's contribution toward stress and makes recommendations that can be implemented at both the individual and organizational level.
Table of Contents
Chapter 1 Assumptions, Theme and Flow
Chapter 2 Stress Defined
Chapter 3 Occupational Stressors and Consequences
Chapter 4 Police Organizations and Police Subculture
Chapter 5 Critical Incident Stressors, Debriefing, and Intervention
Chapter 6 General Work Stressors, Family Stressors, and Female Officers
Chapter 7 War on Crome and Paramilitary Model of Policing
Chapter 8 Terrorism and Street Cops
Chapter 9 Stress in Small-Town and Rural Policing
Chapter 10 Individual and Person-Centered Stress Initiatives
Chapter 11 Options and Obstacles of Person-Centered Stress Providers
Chapter 12 Change, Professionalism, and Hiring Process
Chapter 13 Organizational Issues
APPENDIX
Purchase Info ?
With CourseSmart eTextbooks and eResources, you save up to 60% off the price of new print textbooks, and can switch between studying online or offline to suit your needs.
Once you have purchased your eTextbooks and added them to your CourseSmart bookshelf, you can access them anytime, anywhere.
Buy Access
Police Officer Stress: Sources and Solutions, CourseSmart eTextbook
Format: Safari Book
$40.99 | ISBN-13: 978-0-13-501732-6