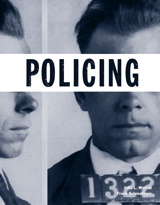 Description
Policing: A Brief Introduction provides a complete and objective overview of policing in America, from its historical roots through the present day. Five distinct sections cover the foundations of policing, personnel issues, police work, legal issues, and the challenges of police discretion and behavior. This innovative new text includes the many pedagogical extras and an engaging four-color design typically associated with longer criminal justice texts, while maintaining a concise focus and brief format.
Table of Contents
SECTION I FOUNDATIONS
Chapter 1 Origins and Evolution of American Policing
Chapter 2 Policing in American Context
Chapter 3 Law Enforcement Agencies and Their Organization
SECTION II A CAREER IN POLICING
Chapter 4 Becoming a Cop
Chapter 5 Police Subculture
Chapter 6 Police Discretion and Behavior
SECTION III ON THE JOB
Chapter 7 Core Police Functions
Chapter 8 Community Policing and Community Involvement
Chapter 9 Policing in the Modern Era
SECTION IV LEGAL ISSUES
Chapter 10 Policing and the Law
Chapter 11 Civil Liability and Accountability
SECTION V CHALLENGES
Chapter 12 Deviance, Ethics, and Professionalism
Chapter 13 The Use of Force
This title is also sold in the various packages listed below. Before purchasing one of these packages, speak with your professor about which one will help you be successful in your course.
Package ISBN-13: 9780134029467
Includes this title packaged with:
Criminal Law (Justice Series)
Jennifer L. Moore, John L. Worrall
Criminal Procedure
John L. Worrall
Criminology, 2nd Edition
Frank J. Schmalleger
NEW MyCJLab with Pearson eText -- Access Card -- for Policing
John L. Worrall, Frank J. Schmalleger
NEW MyCJLab with Pearson eText -- Access Card -- for Corrections
Leanne F. Alarid, Philip L. Reichel
Corrections
Leanne F. Alarid, Philip L. Reichel
NEW MyCJLab with Pearson eText -- Access Card -- for Criminology, 2nd Edition
Frank J. Schmalleger
$622.53 | Add to Cart
Purchase Info
ISBN-10: 0-13-261019-1
ISBN-13: 978-0-13-261019-3
Format: Alternate Binding