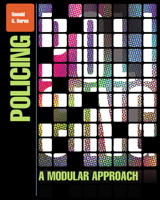 Description
For courses in Policing and Law Enforcement.
Policing: A Modular Approach provides a refreshing break from traditional policing textbooks. Created to encourage reader comprehension, the text uses a modular format that divides chapters into easily-digestible sections. An emphasis on the fundamentals of policing, combined with case studies and recent research-based findings, gives readers objective and thorough coverage of policing and police work. The text provides a strong balance between the practical and theoretical aspects of police work and is a reader-friendly, learning-focused, research-based examination of the most significant and pressing issues faced by today's police departments and officers.
Table of Contents
Chapter 1 The Police: An Introduction
Chapter 2 Levels of Law Enforcement
Chapter 3 Becoming a Police Officer
Chapter 4 Police Work
Chapter 5 Police Operational Issues
Chapter 6 Community Policing
Chapter 7 Policing and Groups
Chapter 8 Legal Aspects of Policing
Chapter 9 Misconduct, Corruption, and Ethical Issues
Chapter 10 Police Administration
Chapter 11 Technology, Criminalistics, and Policing
Chapter 12 A Look to the Future of Policing
Purchase Info ?
With CourseSmart eTextbooks and eResources, you save up to 60% off the price of new print textbooks, and can switch between studying online or offline to suit your needs.
Once you have purchased your eTextbooks and added them to your CourseSmart bookshelf, you can access them anytime, anywhere.
Buy Access
Policing: A Modular Approach, CourseSmart eTextbook
Format: Safari Book
$63.99 | ISBN-13: 978-0-13-256913-2