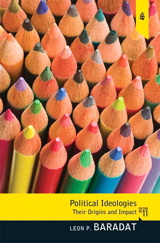 Description
Brief and accessible, Political Ideologies follows the evolution of political thought over 300 years.
Organized chronologically, this text examines each major ideology within a political, historical, economic, and social context. Leon Baradat's skillful prose ensures that students obtain a clear understanding of how ideas are influencing the political realities of our time.
Table of Contents
Chapter 1. Ideology
Chapter 2. The Spectrum of Political Attitudes
Chapter 3. Nationalism
Chapter 4. The Evolution of Democratic Theory
Chapter 5. Liberal Democracy, Capitalism, and Beyond
Chapter 6. The Liberal Democratic Process
Chapter 7. Anarchism
Chapter 8. Socialist Theory
Chapter 9. Applied Socialism
Chapter 10. Fascism and National Socialism
Chapter 11. Ideologies in the Developing World
Chapter 12. Feminism and Environmentalism
Purchase Info ?
With CourseSmart eTextbooks and eResources, you save up to 60% off the price of new print textbooks, and can switch between studying online or offline to suit your needs.
Once you have purchased your eTextbooks and added them to your CourseSmart bookshelf, you can access them anytime, anywhere.
Buy Access
Political Ideologies, CourseSmart eTextbook, 11th Edition
Format: Safari Book
$38.99 | ISBN-13: 978-0-205-08269-8