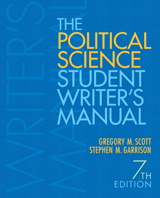 Description
The Political Science Student Writer's Manual is a practical manual to research and writing in political science. Designed to improve students' critical thinking and writing skills, this hands-on manual includes effective style and grammar guides alongside clear coverage of argumentation, research, and citation to explain and illustrate the purpose and characteristics of papers across political science subfields.
Table of Contents
Introduction: Welcome to the Study of Politics and Government
Part I. Before you Write: Review the Basics
Chapter 1. Seize the Day: Write!
Chapter 2. Master the Basics of Language
Chapter 3. Generate and Effective Style
Chapter 4. Format Your Paper Correctly
Chapter 5. Cite Sources and Avoid Plagiarism
Part II. Warm-Up: Critical Thinking about Politics and Government
Chapter 6. Write to Take Action and Communicate
Chapter 7. Write to Analyze Politics or Government Policy
Chapter 8. Write to Explain or Evaluate Others' Works
Part III. Move Forward: Conduct Research in Political Science
Chapter 9. Organize the Research Process
Part IV. Write for Your Political Science Course
Chapter 10. Analyze Public Opinion
Chapter 11. Analyze a Domestic or International Government Policy
Chapter 12. Analyze a Bill Before Congress
Chapter 13. Compare Political Systems
Chapter 14. Author an Amicus Curiae Brief
Purchase Info ?
With CourseSmart eTextbooks and eResources, you save up to 60% off the price of new print textbooks, and can switch between studying online or offline to suit your needs.
Once you have purchased your eTextbooks and added them to your CourseSmart bookshelf, you can access them anytime, anywhere.
Buy Access
Political Science Writer's Manual, The, CourseSmart eTextbook, 7th Edition
Format: Safari Book
$23.99 | ISBN-13: 978-0-205-83016-9