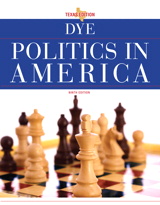 Description
Updated in a new 9th edition, Politics in America provides straightforward, descriptive coverage of American politics and government. Using the Harold Lasswell definition of politics Tom Dye employs this classic, and still resonant, interpretation as the lens through which he examines the foundations, institutions, behaviors, and policies of the American political system.
Table of Contents
I. POLITICS
1. Politics: Who Gets What, When, and How
2. Political Culture: Ideas in Conflict
II. CONSTITUTION
3. The Constitution: Limiting Governmental Power
4. Federalism: Dividing Governmental Power
III. PARTICIPANTS
5. Opinion and Participation: Thinking and Acting in Politics
6. Mass Media: Setting the Political Agenda
7. Political Parties: Organizing Politics
8. Campaigns and Elections: Deciding Who Governs
9. Interest Groups: Getting Their Share and More
IV. INSTITUTIONS
10. Congress: Politics on Capitol Hill
11. The President: White House Politics
12. The Bureaucracy: Bureaucratic Politics
13. Courts: Judicial Politics
V. OUTCOMES
14. Politics and Personal Liberty
15. Politics and Civil Rights
16. Politics and the Economy
17. Politics and Social Welfare
18. Politics and National Security
VI. TEXAS POLITICS
19. The Social and Economic Milieu of Texas Politics
20. The Texas Constitution
21. Interest Groups, Political Parties, and Elections in Texas
22. The Texas Legislature
23. The Texas Executive and Bureaucracy
24. The Texas Judiciary
25. Local Government in Texas
Enhance your learning experience with text-specific study materials.