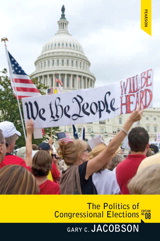 Description
In its examination of congressional elections and politics, Gary Jacobson's classic text makes connections to broader themes and fundamental questions about representation and responsibility.
Brought completely up-to-date with the latest data from the National Election Study and the Federal Election Commission, and including coverage and analysis of the 2008 and 2010 elections, this seminal work continues to offer a systematic account of what goes on in congressional elections and demonstrates how electoral politics reflect and shape other components of the political system, with profound consequences for representative government.
Table of Contents
Chapter 1 Introduction

Chapter 2 The Context
Chapter 3 Congressional Candidates
Chapter 4 Congressional Campaigns
Chapter 5 Congressional Voters
Chapter 6 National Politics and Congressional Elections
Chapter 7 Elections, Representation, and the Politics of Congress

Purchase Info ?
With CourseSmart eTextbooks and eResources, you save up to 60% off the price of new print textbooks, and can switch between studying online or offline to suit your needs.
Once you have purchased your eTextbooks and added them to your CourseSmart bookshelf, you can access them anytime, anywhere.
Buy Access
Politics of Congressional Elections, The, CourseSmart eTextbook, 8th Edition
Format: Safari Book
$37.99 | ISBN-13: 978-0-205-85461-5