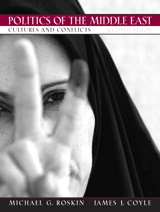 Description
For undergraduate Political Science courses on the Middle East, Comparative Politics, and International Relations.
A multi-disciplinary introduction to the Middle East, Politics in the Middle East provides an overview of history, geography, cultures, and religions and leads up to the region's Twenty-first Century conflicts, including the Iraq War. With its emphasis on basic concepts and vocabulary, and its use of illustrative case studies, Politics of the Middle East provides an exciting tool for the basic understanding of this very complex region.
---
Need other area or country studies? Package any of the titles below with this text and receive a discount! E-mail polisci@pearson.com for more information and a special package ISBN.
Table of Contents
PART I: CULTURES
CHAPTER 1: CIVILIZATION AND ITS CRADLE
CHAPTER 2: THE BIRTH OF ISLAM
CHAPTER 3: THE OTTOMAN EMPIRE
PART II ARAB-ISRAELI CONFLICTS
CHAPTER 4: ORIGINS OF THE ISRAEL-PALESTINE WAR
CHAPTER 5: THE VERY LONGWAR
CHAPTER 6: IS PEACE POSSIBLE?
PART III THE NORTH
CHAPTER 7: TURKEY
CHAPTER 8: THE KURDS
PART IV THE RISE OF THE OIL KINGDOMS
CHAPTER 9: IRAN
CHAPTER 10: SAUDI ARABIA
CHAPTER 11: IRAQ AND KUWAIT
PART V CONFLICTS: THE GULF WARS
CHAPTER 12: THE IRANIAN REVOLUTION AND WAR WITH IRAQ
CHAPTER 13: THE FIRST GULF WAR
CHAPTER 14: THE 2003 IRAQWAR AND AFTERMATH
PART VI ISLAMIC WARS?
CHAPTER 15: MIDDLE EASTERN MODERNIZATION AND DEMOCRATIZATION
CHAPTER 16: POLITICAL ISLAM AND TERRORISM
CHAPTER 17: THE UNITED STATES AND THE MIDDLE EAST