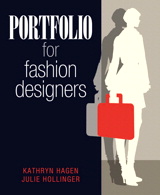 Description
PORTFOLIO FOR FASHION DESIGNERS brings together detailed information and step-by-step guidance for fashion design students seeking to prepare portfolios that represent their personality and creative vision, and showcase their strongest skills. Replete with examples of student work, it covers every topic related to fashion portfolio design and development. Coverage includes: time management, four groups planning, mood boards, fabric, rendering and figures, designing groups, flat templates, flats as a presentation layout, digital, resumes, and more. All of this text's key concepts and techniques are integrated through a complete portfolio example.
Table of Contents
1. The Big Picture
2. Gather Your Resources
3. Develop Your Fabric Skills
4. Creating Your Mini-Mockup Portfolio
5. Develop Your Designs
6. Develop Your Poses
7. Draw and Render Your Designs
8. Garment and Technical Flats
9. Digital Portfolios
10. Additional Portfolio Categories
11. Getting and Keeping the Job
Purchase Info
Digital Choices ?
MyLab & Mastering with Pearson eText is a complete digital substitute for a print value pack at a lower price.
MyLab & Mastering ?
MyLab & Mastering products deliver customizable content and highly personalized study paths, responsive learning tools, and real-time evaluation and diagnostics. MyLab & Mastering products help move students toward the moment that matters most—the moment of true understanding and learning.