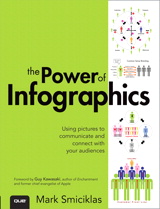 Description
Need to overcome information overload and get your message across? Infographics are your secret weapon. Using them, you can deliver knowledge and ideas visually, so your audiences can understand them quickly - and take action. In The Power of Infographics, Mark Smiciklas helps you understand how to leverage the use of powerful infographics: visual representations capable of transforming complex data or concepts into intuitive, instant knowledge. Writing from a business perspective, Smiciklas reveals how to use infographics both inside and outside the organization: to build brands, make sales, serve clients, align teams behind new strategies, and more. This straightforward, visual, common-sense based book explains: * What infographics are, and why they work so well * How to visualize statistical data, business processes, time, geography, lists, relationships, and concepts * How to communicate the "personal" through infographics * Best practices for observation, processing ideas, creating highly effective infographics, and publishing them * How to plan for and measure the ROI of infographics * And much more...
Table of Contents
Foreword by Guy Kawasaki xiii

SECTION I: VISUAL COMMUNICATION

Chapter 1 Infographics 101 3
What Are Infographics? 3
Infographics Defined 3
Infographic History 6
The Science of Visualization 7
Hardwiring 7
Easy on the Mind 7
Visual Learning 11
Why Infographics Work for Business 12
Easy to Digest 12
Shareability 15
The "Cool" Factor 16
Endnotes 16

SECTION II: BUSINESS INFORMATION NEEDS

Chapter 2 Visualizing Numbers and Concepts 21
Statistics 21
Using Data to Tell a Story 22
The Benefits of Visualizing Research 24
Understanding the Risks 25
Ideas and Concepts 26
Using Visual Metaphors 27
Using Cartoons to Communicate Your Ideas 30
Case Study: The Kronos "Time Well Spent" Cartoon Series 33
Endnotes 34

Chapter 3 Visualizing How Things Work and Are Connected 35
Process 35
The Jargon Dilemma 37
Infographics Help Explain What You Do 38
Hierarchy 42
Business Hierarchies 42
Relationships 47
Simplified Systems Thinking 49
Business Models 49
Endnotes 55

Chapter 4 Visualizing Who, When, and Where 57
Personality 57
Brand Humanization 58
Infographic Resumes 60
Chronology 65
Business Timelines 65
Geography 69
Business Maps 69
Endnotes 72

SECTION III: CREATING INFOGRAPHICS

Chapter 5 Infographic Prep Work 75
Purpose 77
Understanding Your Audiences' Information Needs 77
Audience Analysis 77
Setting Infographic Objectives 79
The Art of Observation 82
Seeing 82
Listening 83
Endnotes 86

Chapter 6 Processing Your Ideas 87
Recording Your Thoughts 87
I'm Not an Artist 87
Different Ways to Document 88
Info-Synthesis 90
The Five W's (and One H) of Infographics . 94
Endnotes 98

Chapter 7 Designing Your Infographics 99
The Critics 99
Infographic DIY 100
An Infographic Rant 100
The DIY Infographic Formula 103
Outsourcing 108
Going Pro 109
Working with Students 114
Endnotes 118

Chapter 8 Publishing Your Infographics 119
Audience Research 119
Online Publishing Channels 120
Infographic Home Base 122
Infographic Outposts 126
Offline Publishing Opportunities 133
Endnotes 133

SECTION IV: BUSINESS VALUE

Chapter 9 Infographics as an Internal and External Communication Tool . . . . 137
Using Infographics to Build Your Brand 137
The Business of Infographics 138
Content Marketing 139
Promoting Your Infographics 148
Infographics Inside the Organization 153
Internal Adoption of Infographics 153
Internal Communication Opportunities 154
Endnotes 155

Chapter 10 Infographic ROI 157
Measuring the VOI (Value of Infographics) 159
Tangible Metrics 160
Intangible Benefits 163

Chapter 11 Infographic Resources 165
Guide to Visual Elements 165
Infographic Tools . 175
Visualization Tools 175
Design Elements 178
Further Reading 179
Information Designers, Consultants, and Agencies 181
Agencies 182
Freelance Designers 184
Consultants 187

Index 189


Purchase Info
ISBN-10: 0-13-301242-5
ISBN-13: 978-0-13-301242-2
Format: eBook (Watermarked)?
This eBook includes the following formats, accessible from your Account page after purchase:
EPUBThe open industry format known for its reflowable content and usability on supported mobile devices.
MOBIThe eBook format compatible with the Amazon Kindle and Amazon Kindle applications.
PDFThe popular standard, used most often with the free Adobe® Reader® software.
This eBook requires no passwords or activation to read. We customize your eBook by discreetly watermarking it with your name, making it uniquely yours.
Includes EPUB, MOBI, and PDF
$23.99
Add to Cart