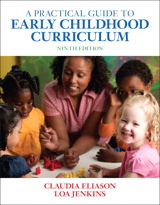 Description
For courses in Early Childhood Curriculum covering ages 3-8.
This applied guide to planning and implementing curriculum across the content areas provides students with a depth of background knowledge not usually seen in a text containing practical, highlighted strategies, unit and lesson plans, suggested activities, recipes, and more.
Emphasizing the importance of a child-centered curriculum that encompasses the whole child, Eliason and Jenkins' text takes a content-area approach to teaching young children along with explaining how to plan learning experiences. Core chapters provide coverage of social studies, language development, literacy development, science, problem-solving and math, music and movement, creativity, art, and dramatic activities.
The authors write with a strong focus on the cognitive areas of the curriculum and effective methods of curriculum implementation. This resource also guides pre-service and practicing teachers to explore how young children learn; what they can learn; and presents specific concepts, ideas, and strategies that are developmentally appropriate for young children in pre K through 3rd grade.
In this ninth edition, some older references have been excluded, and many recent references have been added to update and support the current text. The historical perspective in the first chapter has been condensed, and developmentally appropriate practice has been included in Chapter 1. A new Chapter 3 addresses a variety of assessments, their purposes, and how teachers assess young children. An entire realignment of chapters in this new edition reflects the updated content. The addition of National Standards and a plethora of helpful ideas addressing key concepts throughout the text further strengthen this already popular text.
Table of Contents
Brief Contents
Part One - INTRODUCTION TO EARLY CHILDHOOD EDUCATION
1 Early Childhood Education and Developmentally Appropriate Practice
2 Family, School, and Community Partnerships
3 Assessment
4 Planning the Curriculum
Part Two - PERSONAL AND SOCIAL DEVELOPMENT
5 Appreciating Differences
6 Myself and Others
Part Three - COGNITIVE AND LITERACY DEVELOPMENT
7 Language Development
8 Literacy Development
9 Physical Science Experiences
10 Earth and Space Science Experiences
11 Life Science Experiences
12 Problem Solving and Mathematics
Part Four - AESTHETIC AND CREATIVE DEVELOPMENT
13 Music and Movement
14 Creativity, Art, and Dramatic Activities
Appendix A Lesson Plans
Appendix B Recipes for Food Experiences
References
Name Index
Subject Index