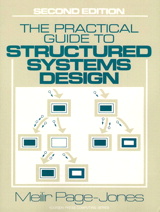 Table of Contents
INTRODUCTION.
1. The dieas Behind Structured Design.
2. The Basics of Design.
THE TOOLS OF STRUCTURED DESIGN.
3. The Structure Chart.
4. Module Specification Methods.
THE QUALITIES OF A GOOD DESIGN.
5. Coupling.
6. Cohesion.
7. Additional Design Guidelines.
ANALYSIS.
8. The Structured Specification.
9. Configuring the System.
DESIGN STRATEGIES.
10. Deriving the Strucutre Charts for the System.
BEYOND DESIGN.
11. Constructing the System.
12. Optimization.
MANAGEMENT.
13. Management Aspects of Structure Design.
This title is also sold in the various packages listed below. Before purchasing one of these packages, speak with your professor about which one will help you be successful in your course.
Package ISBN-13: 9780136112860
Includes this title packaged with:
Object-Oriented Thought Process, The, 3rd Edition
Matt Weisfeld
$96.60 | Add to Cart