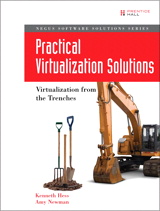 Description
The 100% Practical Guide to Making Virtualization Work in Real Enterprise Environments
If you're involved in planning, deploying, or managing virtualization, this book brings together all the field-proven, in-the-trenches answers and solutions you'll need. Packed with examples and case studies, Practical Virtualization Solutions is a complete, self-paced, hands-on guide to creating a virtualized environment and driving maximum value from it throughout its entire lifecycle.
Kenneth Hess and Amy Newman present detailed costs, schedules, and deployment plans drawn from actual enterprise virtualization projects. You'll learn what really works and what doesn't and discover powerful ways to systematically control the costs of virtualization and streamline its management. The authors offer realistic guidance on choosing the best services to virtualize; selecting the right virtualization software, hardware, and vendor partners; troubleshooting and securing virtualized environments; and much more. Along the way, they answer crucial questions IT professionals face in working with virtualization.
Coverage includes
Quantifying the time, hardware, labor, and downtime needed to implement virtualization

Streamlining the transition from physical to virtual

Comparing VMware ESXi, VMware Server, Microsoft Hyper-V, Citrix XenServer, and other virtualization technologies

Identifying opportunities to reduce cost and improve flexibility with open source virtualization technologies

Explaining advanced techniques for simplifying virtual machine management

Defining the right role for virtualization in networking and storage

Automating virtual infrastructure management tasks
Table of Contents
Foreword xv
Acknowledgments xvii
About the Authors xix
Preface xxi
Part I: Virtualization Basics and Technology Choices 1
Chapter 1: To Virtualize or Not to Virtualize? 3
Chapter 2: Comparing Virtualization Technologies 17
Chapter 3: VMware Server 25
Chapter 4: VMware ESXi 47
Chapter 5: Citrix XenServer 67
Chapter 6: Microsoft Virtual PC 87
Chapter 7: Microsoft Hyper-V 103
Chapter 8: VirtualBox 113
Part II: Applying Virtualization 135
Chapter 9: Server Virtualization in Action 137
Chapter 10: Desktop Virtualization in Action 161
Chapter 11: Network and Storage Virtualization in Action 175
Part III: Building the Virtual Infrastructure: Hardware's Role in Virtualization 191
Chapter 12: Form-Factor Choices and Their Implications 193
Chapter 13: Choosing a Vendor 205
Chapter 14: Beyond the Box 223
Part IV: From Development to Production: Managing the Virtual Infrastructure 237
Chapter 15: Laying the Foundation: The Planning Stage 239
Chapter 16: Deployment 253
Chapter 17: Postproduction: Wrapping It Up 265
Appendix: Virtual Machine Installation 273
Purchase Info
ISBN-10: 0-13-714925-5
ISBN-13: 978-0-13-714925-4
Format: Safari PTG
This publication is not currently for sale.