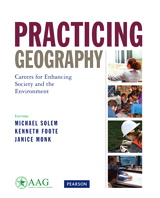 Description
Geographers are in demand in business, government, nonprofit, and education sectors due to the range of knowledge and skills they bring to their work. Few disciplines prepare individuals like geography for bridging the social and environmental sciences, as well as the arts and humanities.

Practicing Geography: Careers for Enhancing Society and the Environment is a comprehensive new resource from the Association of American Geographers (AAG) and Pearson, designed to prepare students for STEM careers in business, government, and non-profit organizations. Funded by the National Science Foundation, this project brings together members of the geography community to discuss workforce needs, expectations, and core competencies in professional geography, profiling the professional applications of and opportunities in geography today. Practicing Geography presents dozens of geographers applying their knowledge, skills, and perspectives in communities, businesses, government agencies, and nonprofit organizations, both domestically and internationally.


Table of Contents
Section I: Preparing for a Career in Business, Government, and Nonprofit Organizations

1. Part Strategy and Serendipity: A Candid Guide to Career Planning for Geographers (Alyson L. Greiner and Thomas A. Wikle)
2. Geography Education and Career Readiness (Joy K. Adams, Niem Tu Huynh, Joseph J. Kerski, and G. Brent Hall)
3. Switching Sectors: Transitioning into and among Business, Government, and Nonprofit Careers (Joy K. Adams)
4. The Value of an Internship Experience for Early Career Geographers (R. Denise Blanchard, Mark L. Carter, Robert B. Kent, Christopher A. Badurek)
5. Professional Networking (Tina Cary)

Section II: Understanding Career Opportunities

6. Geography Careers in State and Local Government (William M. Bass)and Richard D. Quodomine)
7. Emerging and Expanding Career Opportunities in the Federal Government (Allison M. Williams, Molly E. Brown, Erin Moriarty, and John A. Wertman)
8. Geography Careers in Large Businesses and Corporations (Amy J. Blatt and Michael F. Ziolkowski)
9. Geography and the Nonprofit Sector (Lia D. Shimada and Jeremy Tasch)
10. Starting a Small Geography Business (Kelsey Brain)
11. Going Global: Practicing Geography Internationally (Carrie Mitchell) and Mélanie Robertson)
12. Teaching Geography Inside and Outside the Classroom (Susan Gallagher)
13. Geography Careers in Consulting (Susanne C. Moser and Angela J.)Donelson)

Section III: Achieving Career Satisfaction Now and Into the Future

14. "Work" and "Life": Crossing Boundaries of Time, Space, and Place (Janice Monk)
15. Practical Ethics for Professional Geographers (Francis Harvey)
16. Creating the Life You Want: Lifelong Professional Development for Geographers (Pauline E. Kneale and Larch Maxey)


Purchase Info ?
With CourseSmart eTextbooks and eResources, you save up to 60% off the price of new print textbooks, and can switch between studying online or offline to suit your needs.
Once you have purchased your eTextbooks and added them to your CourseSmart bookshelf, you can access them anytime, anywhere.
Buy Access
Practicing Geography, CourseSmart eTextbook
Format: Safari Book
$21.99 | ISBN-13: 978-0-321-80692-5