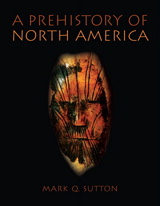 Description
A Prehistory of North America covers the ever-evolving understanding of the prehistory of North America, from its initial colonization, through the development of complex societies, and up to contact with Europeans.
This book is the most up-to-date treatment of the prehistory of North America. In addition, it is organized by culture area in order to serve as a companion volume to "An Introduction to Native North America." It also includes an extensive bibliography to facilitate research by both students and professionals.
Purchase Info ?
With CourseSmart eTextbooks and eResources, you save up to 60% off the price of new print textbooks, and can switch between studying online or offline to suit your needs.
Once you have purchased your eTextbooks and added them to your CourseSmart bookshelf, you can access them anytime, anywhere.
Buy Access
Prehistory of North America, A, CourseSmart eTextbook
Format: Safari Book
$32.99 | ISBN-13: 978-0-205-03411-6