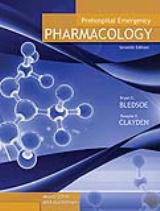 Description
Prehospital Emergency Pharmacology, Seventh Edition is a comprehensive guide to the most common medications and fluids used by paramedics and other emergency medical service (EMS) professionals in prehospital emergency care. A cornerstone of EMS education for more than 25 years, it has been extensively revised in this edition to reflect current trends in emergency care, especially the growing requirement for evidence-based practice. A valuable aid to both practicing paramedics and paramedic students, it presents care procedures that represent accepted practices throughout the U.S. and Canada, as well as up-to-date medication dosages according with nationally accepted standards, including those of the AMA, AHA, and PDR.
Table of Contents
Chapter 1: General Information
Chapter 2: Pharmacokinetics and Pharmacodynamics
Chapter 3: Administration of Medications
Chapter 4: Medication Dosage Calculations
Chapter 5: Fluids, Electrolytes, and Intravenous Therapy
Chapter 6: The Autonomic Nervous System
Chapter 7: Medications Used in the Treatment of Cardiovascular Emergencies
Chapter 8: Medications Used in the Treatment of Respiratory Emergencies
Chapter 9: Medications Used in the Treatment of Allergic Reactions and Anaphylaxis
Chapter 10: Medications Used in the Treatment of Metabolic-Endocrine Emergencies
Chapter 11: Medications Used in the Treatment of Neurological Emergencies
Chapter 12: Medications Used in the Treatment of Obstetrical and Gynecological Emergencies
Chapter 13: Toxicological Emergencies in Prehospital Care
Chapter 14: Medications Used in the Treatment of Behavioral Emergencies
Chapter 15: Medications Used in the Treatment of Gastrointestinal Emergencies
Chapter 16: sedation and Pain Management
Chapter 17: Weapons of Mass DestructioN
Appendix A: Glossary of Street Drug Names
Appendix B: Emergency Intravenous Fluids Quick Reference Guide
Appendix C: Quick Medication ReferencE
Appendix D: Common Home Prescription Drug Information
Appendix E: Pediatric Advanced Cardiac Life Support Treatment Flowchart
Appendix F: Medication Administration Skills
Appendix G: A Guide to Herbal Supplements Appendix H: Practice Problems Answer Key
This title is also sold in the various packages listed below. Before purchasing one of these packages, speak with your professor about which one will help you be successful in your course.