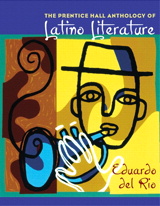 Table of Contents
I. FOREWORD.
II. INTRODUCTION.
Cultural and Linguistic Considerations. Labeling.
III. MEXICAN-AMERICAN LITERATURE: A BRIEF SURVEY.
Fiction.
Sandra Cisneros from The House on Mango Street: "My Name," "A House of My Own," "Mango Says Goodbye Sometimes." Gary Soto from Living Up the Street: "Black Hair." Jose Antonio Villareal from Pocho. Rudolfo Anaya from Bless Me Ultima. Ana Castillo from So Far from God. Denise Chavez from The Last of the Menu Girls: "Willow Game." Rolando Hinojosa from Becky and Her Friends: "Becky." Roberta Fernandez from Intaglio: A Novel in Six Stories: "Esmeralda." Helena Maria Viramontes from Under the Feet of Jesus. Americo Paredes from George Washington Gomez.
Poetry.
Pat Mora, "Sonrisas," "Bilingual Christmas," "The Grateful Minority." Ana Castillo, "Women Are Not Roses," "Not Just Because My Husband Said." Sandra Cisneros, "My Wicked Wicked Ways," "For All Tuesday Travelers." Gary Soto, "Who Will Know Us?," "Moving Our Misery." Bernice Zamora, "Luciano." Lorna Dee Cervantes, "To We Who Were Saved by the Stars." Gloria Anzaldua, "To Live in the Borderlands Means You." Jimmy Santiago Baca, "Roots," "Accountability," "A Daily Joy to be Alive."
Drama.
Estela Portillo Trambley, Sor Juana. Luis Valdez, Bernabé.
IV. CUBAN-AMERICAN LITERATURE: A BRIEF SURVEY.
Fiction.
Cristina Garcia from Dreaming in Cuban. Oscar Hijuelos from The Mambo Kings Play Songs of Love. Virgil Suarez from Spared Angola: Memories of a Cuban-American Childhood: "La Ceiba: Tree of Life." Pablo Medina from The Marks of Birth: "The Birthmark." Margarita Engle from Singing to Cuba. Himilce Novas from Mangos, Bananas and Coconuts: A Cuban Love Story. Teresa Bevin from Havana Split: "City of Giant Tinajones." Jose Yglesias from The Guns in the Closet: "The Place I Was Born," "Celia's Family."
Poetry.
Gustavo Perez Firmat "Bilingual Blues," "Dedication." Pablo Medina "The Exile," "Winter of a Rose." Ricardo Pau-Llosa "Foreign Language," "Minas de Cobre." Elias Miguel Munoz "Little Sister Born in this Land." Carolina Hospital "Dear Tía."
Drama.
Dolores Prida Beautiful Señoritas. René AlomáA Little Something to Ease the Pain.
V. PUERTO-RICAN AMERICAN LITERATURE: A BRIEF SURVEY.
Fiction.
Judith Ortiz Cofer from The Line of the Sun. Nicholassa Mohr from Nilda. Piri Thomas from Down These Mean Streets. Jack Agueros from Dominoes and Other Stories: "One Sunday Morning." Esmeralda Santiago from When I Was Puerto Rican. Ed Vega from Mendoza's Dreams: "The Barbosa Express." Abraham Rodriguez Jr., "The Boy Without a Flag." Jesus Colon from A Puerto Rican in New York and Other Sketches.
Poetry.
Miguel Algarin "Nuyorican Angel," "August 21." Sandra Maria Esteves, "In the Beginning," "A La Mujer Borrinqueña." Victor Hernandez Cruz, "African Things," "Bi-Lingual Education." Tato Laviera, "My Graduation Speech," "Savorings, from Piñones to Loiza," "Against Muñoz Pamphleteering." Pedro Pietri, "Puerto Rican Obituary." Jack Agueros, "Sonnet: Waiting in Tompkins Square Park," "Sonnets for the Four Horsemen of the Apocalypse: Long Time Among Us." Martin Espada, "Thanksgiving," "Niggerlips."
Drama.
Miguel Piñero, A Midnight Moon at the Greasy Spoon. Miguel Algarin and Tato Laviera Olú Clemente.
VI. APPENDICES.
Glossary of Terms for Bernabé.
Glossary of Terms for Olú Clemente.
Selected Bibliography.