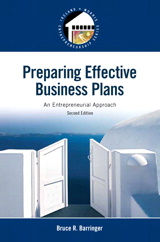 Description
For undergraduate and graduate courses in entrepreneurship
This book is for the future entrepreneur who wants to understand the critical issues and feasibility of developing a business venture, while developing an extensive business plan.
Teaching and Learning Experience

This text will provide a better teaching and learning experience—for you and your students. Here's how:
Focus on the "Front End" of the Entrepreneurial Process: The entrepreneurial process is discussed and defined as part of the comprehensive business plan process.
Give Students a Solid Point of Reference: A business plan, for a fictitious company name Prime Adult Fitness, is built throughout the course of the book.
Present Special Insights on Presenting and Writing a Business Plan: The book provides tips and suggesting for presenting a business plan with confidence and pose and includes a 12 slide PowerPoint with suggestions on what to include on each slide.
Table of Contents
PART I. STARTING THE PROCESS
Chapter 1. Why Plan?
PART II. WHAT TO DO BEFORE THE BUSINESS PLAN IS WRITTEN
Chapter 2. Developing and Screening Business Ideas
Chapter 3. Feasibiity Analysis
PART III. PREPARING A BUSINESS PLAN
Chapter 4. Introductory Material, Executive Summary, and Description of the Business
Chapter 5. Industry Analysis
Chapter 6. Market Analysis
Chapter 7. Marketing Plan
Chapter 8. Management Team and Company Structure
Chapter 9. Operations Plan and Product (or Service) Design and Development Plan
Chapter 10. Financial Projections
PART IV. PRESENTING THE BUSINESS PLAN
Chapter 11. Presenting the Plan with Confidence
Name Index
Subject Index
These online resources are available at no cost.
Companion Website for Entrepreneurship Series
This title is also sold in the various packages listed below. Before purchasing one of these packages, speak with your professor about which one will help you be successful in your course.
Package ISBN-13: 9780134113791
Includes this title packaged with:
LivePlan 6-Month Access Card
. . Palo Alto Software
$102.73 $97.59 | Add to Cart
Package ISBN-13: 9780134859651
Includes this title packaged with:
Fundamentals of Management: Essential Concepts and Applications, Student Value Edition, 10th Edition
Stephen P. Robbins, Mary A. Coulter, David A. De Cenzo
2017 MyLab Management with Pearson eText -- Access Card -- for Fundamentals of Management, 10th Edition
Stephen P. Robbins, Mary A. Coulter, David A. De Cenzo
$266.60 $253.27 | Add to Cart