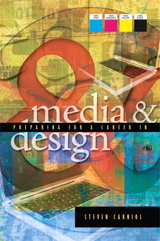 Description
For courses in Career Development, Portfolio Development and Career Preparation.
Developed specifically for the media and design fields, this guide covers all aspects of career development and moves beyond simply landing a job offer. Early chapters discuss how to search for a job, prepare for an interview and obtain a position in media and design–and then how to negotiate salary and understand benefit packages. Throughout the text, samples of resumes, cover letters, and interview questions are included and worksheets are provided to teach students how to create their own. Industry-specific chapters set this text apart and show readers how to protect their work, establish a freelance business, and evaluate opportunities within the field.
Table of Contents
1. Starting Your New Career Path
2. Writing the Perfect Resume
3. Your Portfolio
4. The Job Search
5. Writing an Effective Cover Letter
6. The Job Interview
7. Congratulations! You Have Been Offered a Job
8. Working Freelance
9. Protecting and Licensing Your Work
Purchase Info ?
With CourseSmart eTextbooks and eResources, you save up to 60% off the price of new print textbooks, and can switch between studying online or offline to suit your needs.
Once you have purchased your eTextbooks and added them to your CourseSmart bookshelf, you can access them anytime, anywhere.
Buy Access
Preparing for a Career in Media and Design, CourseSmart eTextbook
Format: Safari Book
$24.99 | ISBN-13: 978-0-13-501742-5