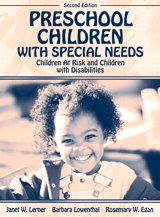 Table of Contents
I. OVERVIEW.
1. Preschool Children with Special Needs.
2. Changing Policies and Laws.
3. Family Systems.
II. ASSESSMENT, LEARNING ENVIRONMENTS, AND CURRICULA.
4. Assessment and Evaluation of Young Children.
5. Environments for Learning.
6. Curriculum Development.
III. INTERVENTION.
7. Motor Development and Medically Related Problems.
8. Adaptive Behavior.
9. Social-Emotional Development.
10. Communication/Language Development.
11. Cognitive Development.
IV. SPECIAL ISSUES.
12. Transition.
Appendix A: Tests and Assessment Instruments.
Appendix B: Selected List of Test Publishers.
Appendix C: Developmental Milestones: Infancy to Age Six.
Appendix D: Individualized Family Service Plan.
Appendix E: Glossary.
References.
Index.
These online resources are available at no cost.
Companion Website with Online Practice Tests, 2nd Edition