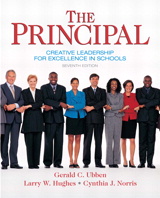 Description
For students taking principalship courses and studying educational administration and leadership.
Centered on the seven Educational Leadership Constituent Council (ELCC) Standards developed for school leaders that covers both theory and practice.
Using the seven Educational Leadership Constituent Council (ELCC) Standards as an organizational tool, the revised seventh edition of The Principal: Creative Leadership For Excellence in Schools continues to provide future school administrators with both the necessary theory and the necessary practical skills to become effective educational leaders. At the same time, the newly updated text incorporates fresh material on modern legal issues, expanded coverage on the topic of cultural and ethnic diversity in schools, and all of the most recent research.
With a focus on practical problem solving for school principals and other educational leaders, this text retains its focus on research linking educational leadership and productive schools, especially in terms of outcomes for children. Treating the principalship as a complicated and constantly evolving position that requires a constant focus on learning, instruction, and school improvement, this seventh edition text teaches readers to be moral agents, social advocates, community leaders, and caring individuals.
Table of Contents
PART ONE: CREATING A VISION OF LEADERSHIP AND LEARNING
1. The Principal: A Creative Blend of Substance and Style
Systems Theory
School: The Context for Leadership
The Principalship: The Role in Context
2. The Learning Community
Sociological and Psychological Nature of Groups
High Performance Organizations
3. Decision Processing and Decision Making at the School Site
Decision Making: A Perspective
Decision Settings
Decision Processing
Problem Solving
The Work Group as a Problem Solving Unit
Problem-Solving Work Groups
4. School Improvement through Systematic Planning
The Principal's Role
Gathering Baseline Data
Determining Vision and Mission
Clarifying Expectations for Student Learning
Analysis of Instructional and Organizational Effectiveness
Action Planning/Project Management
The Project Calendar: Gantt Charting
PART TWO: CREATING A POSITIVE CULTURE
5. Creating a Positive Learning Climate
It Happens in Many Schools
Positive Student Control
The School as Culture
Violence and Disorder
The Counseling Program
Student Services
Principal's Role in Coordination and Articulation
6. The School Curriculum
The Principal's Role in Curriculum Administration
Curriculum Analysis
Curriculum Design and School Improvement
Curriculum Delivery
Curriculum Flexibility
Curriculum Continuity
Curriculum Balance
7. Promoting Student Achievement
Instruction and Learning
Individual Differences among Children
School Accountability and Student Achievement
Grouping Students
Research on Teaching
8. Special Students and Special Services
Ethics of Administration
Administration of Special Education Services
Disciplining Students with Disabilities
Dealing with Parents of Special Children
The Role of a Principal
The Role of a Regular Classroom Teacher
Outside Public Agencies
9. Human Resources Development
Integration of the Individual and Organization
Individual and Group Needs
Professional Development
Personnel Evaluation and Supervision
The Staff Evaluation Cycle
Mentoring
PART THREE: MANAGING THE ORGANIZATION
10. Staffing the School: Recruitment, Selection, and Termination Processes
Determining Staffing Needs
Recruitment
The Selection Process
Employee Probationary Status
Orientation and Development of New Teachers
Teacher Tenure
Involuntary Termination
Voluntary Termination
11. Restructuring the Deployment of Instructional Personnel
Empowerment
Professional Learning Communities
Organizing for Professional Learning Community Development
Staffing Patterns for Elementary and Middle Schools
Staffing Patterns for Secondary School
Learning Community Planning
The School as a Learning Community
12. Restructuring Time: Scheduling
Schedule Flexibility
Schedule Design
Learning Community Planning Time
Elementary School Schedules
Middle School Schedules
Secondary School Schedules
13. Fiscal Accounting, Budgeting, and Building Management
Where Does the Money Come From?
The Building and Grounds
The Planning and Budgeting Process
Implementing a Planning, Programming, Budgeting System
Accounting for Financial Resources and Expenditures
Supplies and Equipment Management
Care of the School Plant
Working with Classified Personnel
14. Technology Applications for School Management
National Educational Technology Standards
Technology Plans
Technology Culture
Communication Using Technology
Cell Phones
School Information Systems
Course Management Systems
Other Administrator Software Applications
Security
PART FOUR: INTERACTING WITH THE EXTERNAL SCHOOL ENVIRONMENT
15. The School and the Community
Hot-Button Issues
The Community
The Complex Community
Informal Community Forces
Formal Community Forces
Promising Public Relations Techniques: Dealing with the Formal and Informal Forces
Getting the Message Out: One-Way Public Relations Techniques
Getting the Message Out and Back: Two-Way Public Relations Techniques
16. Legal Rights and Responsibilities of Staff and Students
Legal Bases for Schools: Federal, State, and Local Perspectives
Due Process
First Amendment Rights
Fourth Amendment Rights
Sexual Harassment
Common Tort Liability Settings
Privacy and Confidentiality of Student Records
Issues of Equity
Youth in Poverty (Reauthorization of the Elementary and Secondary Education Act)
Homeless Youth
Appendix A: Case Studies in School Leadership and Management
Appendix B: Educational Leadership Policy Standards: ISLLC 2008