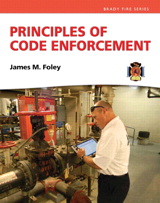 Description
Principles of Fire Code Enforcement provides a comprehensive overview of the everyday work practices of fire inspectors and the important role they play in fire risk reduction in their communities. The text's easy-to-follow format covers basic and advanced concepts for fire science students, fire inspectors, and fire officers seeking advancement in their fire service careers. Case studies and illustrations help readers understand and implement complex fire code and fire protection requirements and provide insight into practical approaches to improving response and recovery efforts in the community. This text addresses the FESHE requirements for fire code enforcement as well as NFPA 1031 and 1037 knowledge requirements.
Table of Contents
1. Understanding the Historical Significance of Fires and their Impact on Fire Codes
2. The Code Enforcement System
3. Understanding Statistics and Community Risk Reduction
4. Organizational Effectiveness
5. The Fire Inspection Process
6. The Violation Process
7. Identifying Common Fire Code Violations
8. Inspection of Hazardous Materials
9. Means of Egress
10. Passive Fire Protection Systems
11. Fire Alarm Systems
12. Water based Fire Protection Systems
13. Plan Review of Water Supply for Fire Protection
14. Fire Protection Plans Review
These online resources are available at no cost.
Resource Central -- Instant Access -- for Principles of Code Enforcement