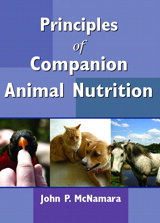 Description
For introductory and intermediate courses in Nutrition or Whole Animal Biology related to Nutrition in Animal Sciences, Biology, or Zoology departments.
This text covers the basics of nutrients (carbohydrates, proteins, fats, vitamins, and minerals), cellular metabolism, and the principles behind the practices of companion animal nutrition. The final half of the book covers specific biological principles and practices for dogs, cats, horses, rabbits, llamas and alpacas, birds, fish, rodents, and reptiles. It is easy to read, directed to this century's students, scientifically correct, visually pleasing, and integrates science and the fun of companion animal nutrition. It is written for the student and the teacher, not for the "expert" by the "expert". Principles of Companion Animal Nutrition fulfills the need for basic animal biology as well as practical companion animal nutrition.
Table of Contents
1. Introduction: The Science of Nutrition
2. Life Cycle Nutrition: from science to practice
3. Glucose and Fatty acids-suppliers of energy and body function
4. Amino Acids and Proteins–structure and body function
5. The Vitamins-co-factors for using nutrients
6. The Minerals-Providers of structure and function
7. The Basics of Energy and Protein Requirements
8. Getting ready to make foods: ingredients, preparation and processing
9. Formulation, Analysis and Labeling: Foods to meet requirements
10. Nutrition of Canines
11. Feline Nutrition
12. Nutrition of Nonruminant Herbivores-Horses
13. Nutrition of the Lagomorph: Rabbits
14. Llamas and Alpacas: Ruminant Companions
15. Nutrition of Ornamental Birds
16. Nutrition of Aquarium Fish
17. Nutrition of Rodents
18. Nutrition of Reptiles
Purchase Info ?
With CourseSmart eTextbooks and eResources, you save up to 60% off the price of new print textbooks, and can switch between studying online or offline to suit your needs.
Once you have purchased your eTextbooks and added them to your CourseSmart bookshelf, you can access them anytime, anywhere.
Buy Access
Principles of Companion Animal Nutrition, CourseSmart eTextbook
Format: Safari Book
$53.99 | ISBN-13: 978-0-13-171833-3