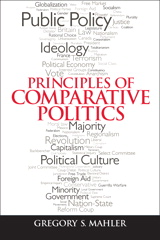 Description
Debuting in its first edition, Principles of Comparative Politics emphasizes the analysis of institutions, giving readers an accessible and concrete cross-national introduction to the political world. Surveying themes and countries,this brief text lays out the major elements of a political system–executive, legislature, political behavior, and more–and examines them in Britain, France, Germany, Russia, Mexico, China, Kenya, and Canada. Principles of Comparative Politics helps readers understand the mechanisms that drive politics and appreciate the variations among them.
Table of Contents
Chapter 1. Comparative Political Analysis: An Introduction
Chapter 2. Constitutions and Ideologies
Chapter 3. Legislative Institutions
Chapter 4. Executive Institutions
Chapter 5. Judicial Institutions
Chapter 6. Political Behavior and the Political Environment
Chapter 7. Pluralism, Parties, Interest Groups, and Movements
Chapter 8. Public Policy
Chapter 9. The British Political System
Chapter 10. The French Political System
Chapter 11. The German Political System
Chapter 12. The Canadian Political System
Chapter 13. The Russian Political System
Chapter 14. The Chinese Political System
Chapter 15. The Mexican Political System
Chapter 16. The Kenyan Political System
Enhance your learning experience with text-specific study materials.