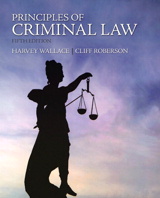 Description
For courses in Introduction to Criminal Law and Principles of Criminal Law.
With its brief format and narrative approach, this book moves away from dense citations and lengthy discussion to present the basic concepts and principles of criminal law in a clear and accessible tone. Covering a variety of topics, it discusses crimes such as white collar crime, victimless crime, and political crime, in addition to the major offenses. Chapters focus on real-world applications and include short edited cases, focus boxes, and end-of-chapter practicums. Fully updated in this edition, the revision includes new How Would You Rule sections and material on terrorism, home invasion robbery, and racketeering.
Table of Contents
1. Sources of Criminal Law
2. Limitations on Criminal Liability
3. Basic Requirements of a Criminal Act
4. Inchoate or Anticipatory Crimes and Criminal Liability
5. Defenses
6. Homicide
7. Sex Offenses
8. Other Crimes Against Persons
9. Robbery, Extortion, and Bribery
10. Theft and Other Crimes Involving Property
11. Crimes Against Habitation
12. Crimes Against Public Morals
13. Narcotic and Alcohol Offenses
14. Special Crimes and Offenses
15. Sentencing and Punishment
Purchase Info ?
With CourseSmart eTextbooks and eResources, you save up to 60% off the price of new print textbooks, and can switch between studying online or offline to suit your needs.
Once you have purchased your eTextbooks and added them to your CourseSmart bookshelf, you can access them anytime, anywhere.
Buy Access
Principles of Criminal Law, CourseSmart eTextbook, 5th Edition
Format: Safari Book
$51.99 | ISBN-13: 978-0-13-511367-7