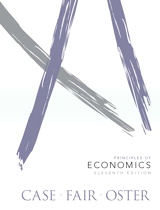 Description
For the 2-semester principles of economics course.

Reviewers tell us that Case/Fair/Oster is one of the all-time bestselling POE texts because they trust it to be clear, thorough and complete. Case/Fair/Oster readers also come away with a basic understanding of how market economies function, an appreciation for the things they do well, and a sense of things they do poorly. Readers begin to learn the art and science of economic thinking and begin to look at some policy and even personal decisions in a different way.
MyEconLab New Design is now available for this title! MyEconLab New Design offers:
One Place for All of Your Courses. Improved registration experience and a single point of access for instructors and students who are teaching and learning multiple MyLab/Mastering courses.

A Simplified User Interface. The new user interface offers quick and easy access to Assignments, Study Plan, eText & Results, as well as additional option for course customization.

New Communication Tools. The following new communication tools can be used to foster collaboration, class participation, and group work.

Email: Instructors can send emails to their entire class, to individual students or to instructors who has access to their course.

Discussion Board: The discussion board provides students with a space to respond and react to the discussions you create. These posts can also be separated out into specific topics where students can share their opinions/answers and respond to their fellow classmates' posts.

Chat/ ClassLive: ClassLive is an interactive chat tool that allows instructors and students to communicate in real time. ClassLive can be used with a group of students or one-on-one to share images or PowerPoint presentations, draw or write objects on a whiteboard, or send and received graphed or plotted equations. ClassLive also has additional classroom management tools, including polling and hand-raising.

Enhanced eText. Available within the online course materials and offline via an iPad app, the enhanced eText allows instructors and students to highlight, bookmark, take notes, and share with one another.
Table of Contents
PART I Introduction to Economics 1
1 The Scope and Method of Economics 1
2 The Economic Problem: Scarcity and Choice 25
3 Demand, Supply, and Market Equilibrium 47
4 Demand and Supply Applications 79
5 Elasticity 97
PART II The Market System: Choices Made by Households and Firms 100
6 Household Behavior and Consumer Choice 121
7 The Production Process: The Behavior of Profit-Maximizing Firms 147
8 Short-Run Costs and Output Decisions 167
9 Long-Run Costs and Output Decisions 189
10 Input Demand: The Labor and Land Markets 215
11 Input Demand: The Capital Market and the
Investment Decision 233
12 General Equilibrium and the Efficiency of Perfect Competition 253
PART III Market Imperfections and the Role of Government 269
13 Monopoly and Antitrust Policy 269
14 Oligopoly 293
15 Monopolistic Competition 313
16 Externalities, Public Goods, and Social Choice 329
17 Uncertainty and Asymmetric Information 353
18 Income Distribution and Poverty 367
19 Public Finance: The Economics of Taxation 389
PART IV Concepts and Problems in Macroeconomics 409
20 Introduction to Macroeconomics 409
21 Measuring National Output and National Income 420
22 Unemployment, Inflation, and Long-Run Growth 441
PART V The Core of Macroeconomic Theory 457
23 Aggregate Expenditure and Equilibrium Output 459
24 The Government and Fiscal Policy 477
25 The Money Supply and the Federal Reserve System 501
26 Money Demand and the Equilibrium Interest Rate 525
27 The Determination of Aggregate Output, the Price Level, and the Interest Rate 541
28 Policy Effects and Costs Shocks in the AS/AD Model 559
29 The Labor Market In the Macroeconomy 571
PART VI Further Macroeconomics Issues 593
30 Financial Crises, Stabilization, and Deficits 593
31 Household and Firm Behavior in the Macroeconomy: A Further Look 611
32 Long-Run Growth 635
33 Alternative Views in Macroeconomics 649
PART VII The World Economy 663
34 International Trade, Comparative Advantage, and Protectionism 663
35 Open-Economy Macroeconomics: The Balance of Payments and Exchange Rates 685
36 Economic Growth in Developing and Transitional Economies 713
Glossary
Index
Photo Credits
Purchase Info ?
With CourseSmart eTextbooks and eResources, you save up to 60% off the price of new print textbooks, and can switch between studying online or offline to suit your needs.
Once you have purchased your eTextbooks and added them to your CourseSmart bookshelf, you can access them anytime, anywhere.
Buy Access
Principles of Economics, CourseSmart eTextbook, 11th Edition
Format: Safari Book
$127.99 | ISBN-13: 978-0-13-302383-1