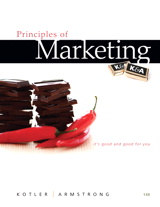 Description
For undergraduate Principles of Marketing courses

Today's marketing challenge is creating vibrant, interactive communities of consumers who make products and brands a part of their daily lives. Learn how to create value and gain loyal customers.

Kotler/Armstrong is a comprehensive, classic principles text organized around an innovative customer-value framework. Students learn how to create customer value, target the correct market, and build customer relationships. The changing nature of consumer expectations means that marketers must learn how to build communities in addition to brand loyalty.


Table of Contents
Chapter 1. Marketing: Creating and Capturing Customer Value
Chapter 2. Company and Marketing Strategy: Partnering to Build Customer Relationships
Chapter 3. Analyzing the Marketing Environment
Chapter 4. Managing Marketing Information to Gain Customer Insights
Chapter 5. Consumer Markets and Consumer Buyer Behavior
Chapter 6. Business Markets and Business Buyer Behavior
Chapter 7. Customer-Driven Marketing Strategy: Creating Value for Target Customers
Chapter 8. Products, Services, and Brands: Building Customer Value
Chapter 9. Developing New Products and Managing the Product Life Cycle
Chapter 10. Pricing Strategies: Understanding and Capturing Customer Value
Chapter 11. Additional Pricing Considerations
Chapter 12. Marketing Channels: Delivering Customer Value
Chapter 13. Retailing and Wholesaling
Chapter 14. Communicating Customer Value
Chapter 15. Advertising and Public Relations
Chapter 16. Personal Selling and Sales Promotion
Chapter 17. Direct and Online Marketing: Building Direct Customer Relationships
Chapter 18. Creating Competitive Advantage
Chapter 19. The Global Marketplace
Chapter 20. Sustainable Marketing: Social Responsibility and Ethics
Purchase Info ?
With CourseSmart eTextbooks and eResources, you save up to 60% off the price of new print textbooks, and can switch between studying online or offline to suit your needs.
Once you have purchased your eTextbooks and added them to your CourseSmart bookshelf, you can access them anytime, anywhere.
Buy Access
Principles of Marketing, CourseSmart eTextbook, 14th Edition
Format: Safari Book
$102.99 | ISBN-13: 978-0-13-216714-7