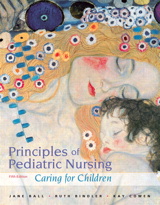 Description
For Pediatric Nursing courses in associate and baccalaureate degree programs.
The most concise, readable pediatric nursing text for RN programs, this book educates nurses about the conditions and nursing interventions for health conditions affecting children, adolescents and their families. Emphasizing the latest research and evidence-based practice, it organizes material by body system instead of developmental stage, allowing faculty to teach pediatrics in integrated courses/short courses without redundancy. This edition includes a new chapter on genetic and genomic influences, a new clinical judgment feature and strong emphasis on health promotion and maintenance, growth and development, and family-centered care.
Table of Contents
1. Nurse's Role in Care of the Child: Hospital and Community
2. Family-Centered Care and Cultural Considerations
3. Genetic and Genomic Influences
4. Growth and Development
5. Pediatric Assessment
6. Introduction to Health Promotion and Health Maintenance
7. Health Promotion and Health Maintenance for the Newborn and Infant
8. Health Promotion and Health Maintenance for the Toddler and Preschool-Age Child
9. Health Promotion and Health Maintenance for the School-Age Child and Adolescent
10. The Child in the Community
11. The Hospitalized Child
12. The Child with a Chronic Condition
13. The Child with a Life-Threatening Condition and End-of-Life Care
14. Nutrition Assessment and Management
15. Pain Assessment and Management
16. Infectious and Communicable Diseases
17. Assessment and Management of Social and Environmental Influences
18. Alterations in Fluid, Electrolyte, and Acid-Base Balance
19. Alterations in Eye, Ear, Nose, and Throat Function
20. Alterations in Respiratory Function
21. Alterations in Cardiovascular Function
22. Alterations in Immune Function
23. Alterations in Hematologic Function
24. The Child with Cancer
25. Alterations in Gastrointestinal Function
26. Alterations in Genitourinary Function
27. Alterations in Neurologic Function
28. Alterations in Mental Health and Cognition
29. Alterations in Musculoskeletal Function
30. Alterations in Endocrine and Metabolic Function
31. Alterations in Skin Integrity
Appendices
A. Physical Growth Charts
B. Blood Pressure Tables
C. Recommended Dietary Allowances
D. Normal Laboratory Values
E. Diagnostic Tests and Procedures
F. Temperature and Weight Conversion
This title is also sold in the various packages listed below. Before purchasing one of these packages, speak with your professor about which one will help you be successful in your course.
Package ISBN-13: 9780133096231
Includes this title packaged with:
Pearson Custom for Nursing
. J. Pearson Education
NEW MyNursingLab -- Access Card -- for Pediatric Nursing (24-month access)
Mike M Pearson Education
Principles of Pediatric Nursing: Caring for Children (1-download), 5th Edition
Jane W. Ball, Ruth C. Bindler, Kay J. Cowen
MyNursingLab with Pearson eText -- Access Card -- for Principles of Pediatric Nursing: Caring for Children, 5th Edition
Jane W. Ball, Ruth C. Bindler, Kay J. Cowen
Student Resources for Principles of Pediatrics: Caring for Children, 5th Edition
Jane W. Ball, Ruth C. Bindler, Kay J. Cowen
Principles of Pediatric Nursing: Caring for Children, 5th Edition
Jane W. Ball, Ruth C. Bindler, Kay J. Cowen
Principles of Pediatric Nursing: Caring for Children, 5th Edition
Jane W. Ball, Ruth C. Bindler, Kay J. Cowen
Principles of Pediatric Nursing: Caring for Children (2-downloads), 5th Edition
Jane W. Ball, Ruth C. Bindler, Kay J. Cowen
NEW MyNursingLab with Pearson eText -- Access Card -- for Pediatric Nursing (6-month access)
Jane W. Ball, Ruth C. Bindler, Kay J. Cowen
MyNursingKit -- Access Card -- for Olds' Maternal-Newborn Nursing & Women's Health Across the Lifespan
Marcia L. London, Michele C. Davidson, Patricia W. Ladewig
NEW MyNursingLab -- Instant Access -- for Pediatric Nursing (24-month access)
Mike M Pearson Education
NEW MyNursingLab with Pearson eText -- Instant Access -- for Pediatric Nursing (6-month access)
Jane W. Ball, Ruth C. Bindler, Kay J. Cowen
CourseCompass for Principles of Pediatric Nursing: Caring for Children (access code required), 5th Edition
Jane W. Ball, Ruth C. Bindler, Kay J. Cowen
Blackboard course cartridge for Principles of Pediatric Nursing, 5th Edition
Jane W. Ball
Principles of Pediatrics: Caring for Children (2-downloads), 5th Edition
Jane W. Ball, Ruth C. Bindler, Kay J. Cowen
CourseCompass Student Access Code Card Principles of Pediatric Nursing: Caring for Children, 5th Edition
Jane W. Ball, Ruth C. Bindler, Kay J. Cowen
Clinical Skills Manual, Pediatric Nursing, 5th Edition
Ruth C. Bindler, Jane W. Ball, Kay J. Cowen
MyNursingLab with Pearson eText -- Instant Access -- for Principles of Pediatric Nursing: Caring for Children, 5th Edition
Jane W. Ball, Ruth C. Bindler, Kay J. Cowen
NEW MyNursingLab -- Instant Access -- for Pediatric Nursing (6-month access)
Mike M Pearson Education
NEW MyNursingLab with Pearson eText -- Access Card -- for Pediatric Nursing (24-month access)
Jane W. Ball, Ruth C. Bindler, Kay J. Cowen
NEW MyNursingLab with Pearson eText -- Access Card -- for Pediatric Nursing (24-month access)
Jane W. Ball, Ruth C. Bindler, Kay J. Cowen
NEW MyNursingLab -- Access Card -- for Pediatric Nursing (6-month access)
Mike M Pearson Education
MyNursingLab -- Access Card -- for Principles of Pediatric Nursing: Caring for Children, 5th Edition
Jane W. Ball, Ruth C. Bindler, Kay J. Cowen
Principles of Pediatric Nursing: Caring for Children (Subscription), 5th Edition
Jane W. Ball, Ruth C. Bindler, Kay J. Cowen
MyNursingKit -- Access Card -- for Pediatric Nursing, 5th Edition
Jane W. Ball
MyNursingLab -- Instant Access -- for Principles of Pediatric Nursing: Caring for Children, 5th Edition
Jane W. Ball, Ruth C. Bindler, Kay J. Cowen
Pediatric Nursing, Pearson eText -- Access Card, 5th Edition
Jane W. Ball
Pediatric Nursing: Caring for Children -- Pearson eText, 5th Edition
Jane W. Ball, Ruth C. Bindler, Kay J. Cowen
Principles of Pediatric Nursing: Caring for Children (1-download), 5th Edition
Jane W. Ball, Ruth C. Bindler, Kay J. Cowen
NEW MyNursingLab with Pearson eText -- Instant Access -- for Pediatric Nursing (24-month access)
Jane W. Ball, Ruth C. Bindler, Kay J. Cowen
$175.67 | Add to Cart