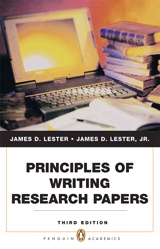 Description
This CourseSmart Sampler includes a selection of material from the full book for faculty to use in order to make a textbook selection for their course. If you need to see additional chapters before making a final decision, please contact your Pearson sales representative for a print copy.
Table of Contents
1 Writing from Research
2 Gathering Sources in the Library
3 Gathering Sources Online
4 Conducting Field Research
5 Understanding and Avoiding Plagiarism
6 Reading and Evaluating Sources
7 Organizing Ideas and Setting Goals
8 Writing Effective Notes
9 Drafting the Paper in an Academic Style
10 Blending Reference Material into Your Writing Using MLA Style
11 Works Cited: MLA Style
12 Creating Electronic Research Projects
Purchase Info ?
With CourseSmart eTextbooks and eResources, you save up to 60% off the price of new print textbooks, and can switch between studying online or offline to suit your needs.
Once you have purchased your eTextbooks and added them to your CourseSmart bookshelf, you can access them anytime, anywhere.
Buy Access
Principles of Writing Research Papers, CourseSmart eTextbook, 3rd Edition
Format: Safari Book
$13.99 | ISBN-13: 978-0-205-79183-5