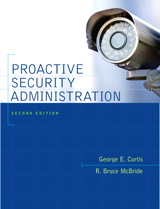 Description
For all introductory courses in security, security management, and security administration.
This completely updated book introduces current theory, critical issues, and best practices for the proactive delivery of security services. It offers balanced, realistic, and thorough treatment of both public and private sectors, as well as up-to-date coverage of cooperation between them. Authored by professionals active in the field, it covers topics ranging from planning to training, global security to the specific challenges of protecting humans, property, and assets in diverse settings. This edition's extensive updates include an entire chapter on enterprise risk management; a new chapter merging homeland security and emergency management; and new chapters on both compliance and emerging trends in security.
Table of Contents
Preface
About the Authors
1. Introduction: Development of Security in the United States
2. Legal Basis
3. Proactive Security Planning
4. Risk Mitigation
5. Securing Critical Assets–Humans and Property
6. Securing Assets
7. Securing Assets: Specific Industries
8. Investigating Security Incidents
9. Homeland Security and Emergency Management
10. Human Resources
11. Security Management and Compliance
12. Training
13. Global Security
14. Future of Security
Index
Purchase Info ?
With CourseSmart eTextbooks and eResources, you save up to 60% off the price of new print textbooks, and can switch between studying online or offline to suit your needs.
Once you have purchased your eTextbooks and added them to your CourseSmart bookshelf, you can access them anytime, anywhere.
Buy Access
Proactive Security Administration, CourseSmart eTextbook, 2nd Edition
Format: Safari Book
$37.99 | ISBN-13: 978-0-13-508964-4