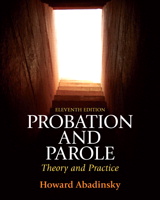 Description
For courses in Probation/Parole and Community Corrections.
Written by a former community corrections professional, PROBATION AND PAROLE, 11/e provides an insider's view of probation and parole. Featuring a two-color design, it addresses both juvenile and adult populations and includes authentic reports, forms and narrative from agencies throughout the country. This edition features material on restorative justice, community-based supervision, evidence-based practice, offender re-entry, and other state-of-the-art practices. Expanded review questions engage students in material as they examine the controversial issues impacting the system.
Table of Contents
1. Probation and Parole in Criminal Justice
PART ONE : PROBATION
2. Probation History and Administration
3. Pretrial Release, Sentencing, and the Presentence Report
4. The Probation Officer and Juvenile Justice
PART TWO: PAROLE
5. Parole and the Indeterminate Sentence
6. Parole Administration and Services
PART THREE: TREATMENT AND SUPERVISION IN PROBATION AND PAROLE
7. Treatment Theory and Practice
8. Probation and Parole Officers
9. Probation and Parole Supervision
10. Intermediate Punishments
11. Special Issues and Programs in Probation and Parole
12. The Future of Probation and Parole
Purchase Info ?
With CourseSmart eTextbooks and eResources, you save up to 60% off the price of new print textbooks, and can switch between studying online or offline to suit your needs.
Once you have purchased your eTextbooks and added them to your CourseSmart bookshelf, you can access them anytime, anywhere.
Buy Access
Probation and Parole: Theory and Practice, CourseSmart eTextbook, 11th Edition
Format: Safari Book
$54.99 | ISBN-13: 978-0-13-511252-6