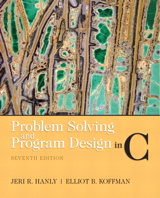 Description
Problem Solving and Program Design in C is one of the best-selling introductory programming textbooks using the C programming language. It embraces a balanced approach to program development and an introduction to ANSI C. The book provides a gradual introduction to pointers and covers programming with functions early in the text. In later chapters, students learn to implement fundamental data structures such as lists, stacks, queues, and trees in a language that fosters their understanding of stack- and heap-dynamic memory allocation and programmer-controlled pointers. To enhance students' learning experience it offers the right amount of pedagogical features that include end-of-section and chapter exercises, examples and case studies, syntax and program style display boxes, error discussions and end-of-chapter projects.
Table of Contents
0. Computer Science as a Career Path
1. Overview of Computers and Programming
2. Overview of C
3. Top-Down Design with Functions
4. Selection Structures: if and switch Statements
5. Repetition and Loop Statements
6. Pointers and Modular Programming
7. Arrays
8. Strings
9. Recursion
10. Structure and Union Types
11. Text and Binary File Processing
12. Programming in the Large
13. Dynamic Data Structures
14. Multiprocessing Using Processes and Threads
15. On to C++ (Online at www.aw.com/cssupport)
A More about Pointers
B ANSI C Standard Libraries
C C Operators
D Character Sets
E ANSI C Reserved Words
Answers to Odd-Numbered Self-Check Exercises (Online at www.aw.com/cssupport)
Glossary
Index
Purchase Info ?
With CourseSmart eTextbooks and eResources, you save up to 60% off the price of new print textbooks, and can switch between studying online or offline to suit your needs.
Once you have purchased your eTextbooks and added them to your CourseSmart bookshelf, you can access them anytime, anywhere.
Buy Access
Problem Solving and Program Design in C, CourseSmart eTextbook, 7th Edition
Format: Safari Book
$60.99 | ISBN-13: 978-0-13-293655-2