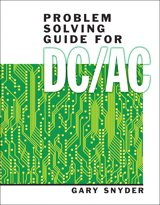 Description
For courses in Introductory DC and AC electronics.
The Problem Solving Guide for Basic DC and AC Electronics, 1e is designed to supplement established electronic textbooks, such as Floyd's Principles of Electronic Circuits. It helps students better develop the conceptual understanding and mathematical problem solving techniques required for dc and ac circuit analysis. This guide provides consistent, step-by-step calculations for all problems so that students can readily understand the procedure for analyzing circuits and develop good problem-solving habits for working through lengthy or complex calculations. By including problems that cover a wide range of generally applicable circuit examples, it serves both as an instructional aid in the basic dc/ac electronic course and as a reference for future courses.
Table of Contents
Preface
1. Quanities and Units
2. Voltage, Current and Resistance
3. Ohm's Law
Purchase Info ?
With CourseSmart eTextbooks and eResources, you save up to 60% off the price of new print textbooks, and can switch between studying online or offline to suit your needs.
Once you have purchased your eTextbooks and added them to your CourseSmart bookshelf, you can access them anytime, anywhere.
Buy Access
Problem Solving Guide for DC/AC, CourseSmart eTextbook
Format: Safari Book
$25.99 | ISBN-13: 978-0-13-138444-6