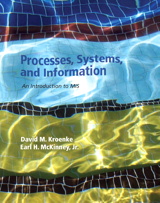 Description
A business process approach.

David M. Kroenke and Earl McKinney's new textbook Processes, Systems, and Information: An Introduction to MIS is the first introductory MIS textbook to emphasize business processes while also presenting the key topics usually associated with an intro course.
Table of Contents
PART 1: MIS AND YOU
Chapter 1: Introduction to MIS
Chapter 2: Business Processes, Information Systems, and Information
PART 2: INFORMATION TECHNOLOGY
Chapter 3: Hardware, Software, and Networks
Chapter 4: Database Processing
PART 3: OPERATIONAL PROCESSES
Chapter 5: Using IS to Improve Processes
Chapter 6: Supporting Processes with ERP Systems
Chapter 7: Supporting the Procurement Process with SAP
Chapter 7 Appendix: SAP Procurement Tutorial
Chapter 8: Supporting The Sales Process with SAP
Chapter 8 Appendix: SAP Sales Tutorial
PART 4: DYNAMIC PROCESSES AND INFORMATION SYSTEMS
Chapter 9: Collaboration Processes and Information Systems
Chapter 10: The Impact of Web 2.0 and Social Media on Business Processes
Chapter 11: Business Intelligence
PART 5: MIS MANAGEMENT PROCESSES
Chapter 12: MIS Management Processes: Process Management, Systems Development, and Security

Application Exercises


Purchase Info
ISBN-10: 0-13-278347-9
ISBN-13: 978-0-13-278347-7
Format: Alternate Binding
Digital Choices ?
MyLab & Mastering with Pearson eText is a complete digital substitute for a print value pack at a lower price.
MyLab & Mastering ?
MyLab & Mastering products deliver customizable content and highly personalized study paths, responsive learning tools, and real-time evaluation and diagnostics. MyLab & Mastering products help move students toward the moment that matters most—the moment of true understanding and learning.
+ Other Options