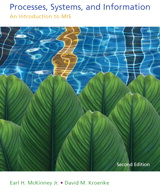 Description
For introductory courses in Management Information Systems
Processes, Systems, and Information: An Introduction to MIS,
Second Edition
provides a concise introduction to MIS with a hands-on approach to business processes.
Authored by Earl H. McKinney, Jr. and David M. Kroenke, the text shows you exactly how businesses use information systems and technology to accomplish their goals, objectives, and competitive strategy. Packed with examples of business situations, both real and fictitious, the book helps you understand what business systems actually are–and see why they are so important.
The text consists of the five SAP-focused chapters from McKinney and Kroenke's
Processes, Systems, and Information: An Introduction to MIS
. A pair of appendices after chapters four and five contains SAP process exercises that enable you to get hands-on experience applying what you're learning in the course. This clear emphasis on business processes, and SAP in particular, makes
Processes, Systems, and Information: An Introduction to MIS, Second Edition
the ideal text for courses attended by those not majoring in MIS.
Teaching and Learning Experience
This program presents a better teaching and learning experience–for you.
Benefit from question-based pedagogy : Each chapter provides a list of questions to ensure that you have attained learning objectives.
Receive a clear learning path: Chapter-opening vignettes, SAP tutorial exercises, and active reviews guide you through the text's key concepts.
Become engaged with group exercises: Group exercises help you understand key concepts while allowing you to think critically as you are involved in discussions and activities.
Keep content current: Help keep your students up to date with the most recent events.
Table of Contents
Part 1 Why MIS? 1
Chapter 1 The Importance of MIS 2
Chapter 2 Business Processes, Information Systems, and Information 26
Part 2 Information Technology 47
Chapter 3 Hardware, Software, and Networks 48
Chapter 4 Database Processing 86
Part 3 Operational Processes and Information Systems 123
Chapter 5 Using IS to Improve Processes 124
Chapter 6 Supporting Processes with ERP Systems 151
Chapter 7 Supporting the Procurement Process with SAP 179
Appendix 7 SAP Procurement Tutorial 207
Chapter 8 Supporting the Sales Process with SAP 224
A ppendix 8 SAP Sales Tutorial 249
Part 4 Dynamic Processes and Information Systems 267
Chapter 9 Collaboration and IS 269
Chapter 10 Social Media and IS 301
Chapter 11 Business Intelligence and IS 328
A ppendix 11 SAP Business Intelligence Tutorial 359
Part 5 MIS Management Processes 363
Chapter 12 MIS Management Processes: Process Management, Systems
Development, and Security 364
Application Exercises 398
Glossary 417
Index 000
This title is also sold in the various packages listed below. Before purchasing one of these packages, speak with your professor about which one will help you be successful in your course.
Package ISBN-13: 9780134653365
Includes this title packaged with:
MyLab IT with Pearson eText--Access Card--for Exploring Microsoft Office 2016
Mary Anne Poatsy, Keith Mulbery, Cynthia Krebs, Lynn Hogan, Amy Rutledge, Robert Grauer, Eric Cameron, Jason Davidson, Rebecca Lawson, Jerri Williams, Linda Lau
$337.13 $320.27 | Add to Cart