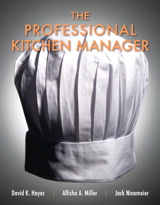 Description
For courses in Quantity Food Production Management or as a supplement in Quantity Food Production.
Focusing on back-of-house management, Professional Kitchen Management addresses topics such as supervision, menu planning, purchasing, and cost control. Students will learn how to evaluate menus, manage inventory, train personnel and deliver food services on a budget. An innovative format pairs the book concepts with Kitchen Management Simulations to provide hands-on training for each chapter topic. Markey-ready features explain why concepts are important to daily operations and identify the skills needed to manage a high-quantity food production kitchen.
Table of Contents
1. Kitchen Managers Get Ready for Food Production
2. Kitchen Managers Select and Train Production Employees
3. Kitchen Managers Lead Food Production Employees
4. Kitchen Managers Plan Their Menus
5. Kitchen Managers Design Their Menu
6. Kitchen Managers Use Standard Recipes
7. Kitchen Managers Cost Recipes and Assist Food Servers
8. Kitchen Managers Use Effective Purchasing Practices
9. Kitchen Managers Use Effective Receiving, Inventory, Management and Issuing Practices
10. Kitchen Managers Analyze Their Menus
11. Kitchen Managers Analyze Sales and Control Revenue
Purchase Info ?
With CourseSmart eTextbooks and eResources, you save up to 60% off the price of new print textbooks, and can switch between studying online or offline to suit your needs.
Once you have purchased your eTextbooks and added them to your CourseSmart bookshelf, you can access them anytime, anywhere.
Buy Access
Professional Kitchen Manager, The, CourseSmart eTextbook
Format: Safari Book
$49.99 | ISBN-13: 978-0-13-210316-9