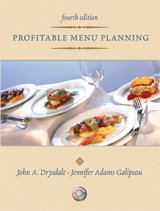 Description
For sophomore/senior-level courses in Menu Planning, Food Production, Food Management. Exceptionally thorough, this text offers single-volume coverage of all aspects of menu planning—from customer demographics to kitchen capabilities, to cost cards and menu analysis. Early chapters are devoted to a variety of broad topics (costs, pricing, nutrition, etc.), while later chapters focus on menu planning for specific types of restaurants (quick service, fine dining, family style, cafeteria, and more). Hands-on in approach, it features real menus from across the country and includes interactive software so readers can practice costing, mark-ups and menu engineering. This edition includes more on marketing, new case studies and updated menus that reflect industry trends.
Pearson Education is proud to bring world-renowned Dorling Kindersley (DK) products to your classroom. Instantly recognized by their fascinating, full-color photographs and illustrations on every page, DK titles will add meaning to expository text and make learning accessible and, fun. Other DK hallmarks include cross-section views, 3D models, and text to visual call-outs to help readers comprehend and enjoy the wealth of information each book provides. With Pearson, you can see DK in a whole new way! For a complete listing of titles, please visit: http://us.dk.com/pearson
Table of Contents
Table of Contents
1. Know Your Customer
2. Know Your Restaurant
3. Costs
4. Pricing the Menu
5. Menu Analysis
6. Nutrition
7. Menu Content
8. Truth in Menu
9. Menu Layout and Printing
10. Menus, Restaurants and Marketing
11. Quick Service Menus
12. Family Style Restaurant Menus
13. Theme-Ethnic and Fine Dining Menus
14. Banquet/Show Menus
15. Buffets
16. Cafeteria and Cycle Menus
17. The Menu as a Management Tool
Appendix A: Descriptive Wording for Menus
Appendix B: Nutritional Labeling Laws
Appendix C: Foreign Wording for Menus
Index
Purchase Info ?
With CourseSmart eTextbooks and eResources, you save up to 60% off the price of new print textbooks, and can switch between studying online or offline to suit your needs.
Once you have purchased your eTextbooks and added them to your CourseSmart bookshelf, you can access them anytime, anywhere.
Buy Access
Profitable Menu Planning, CourseSmart eTextbook, 4th Edition
Format: Safari Book
$60.99 | ISBN-13: 978-0-13-500591-0