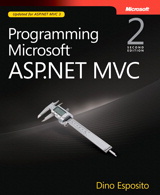 Description
Fully updated for ASP.NET MVC 3. Delve into the features, principles, and pillars of the ASP.NET MVC framework—deftly guided by web development luminary Dino Esposito. ASP.NET MVC forces developers to think in terms of distinct components—Model, View, Controller—that make it easier to manage application complexity, while allowing strict control over the markup. Plunge into the framework's internal mechanics and gain perspectives on how to use this programming model versus Web Forms, and begin building your own MVC-based applications quickly.
Table of Contents
Introduction
Acknowledgments
ASP.NET MVC Fundamentals

Chapter 1: ASP.NET MVC Controllers
Chapter 2: ASP.NET MVC Views
Chapter 3: The Model-Binding Architecture
Chapter 4: Input Forms

ASP.NET MVC Software Design

Chapter 5: Aspects of ASP.NET MVC Applications
Chapter 6: Securing Your Application
Chapter 7: Design Considerations for ASP.NET MVC Controllers
Chapter 8: Customizing ASP.NET MVC Controllers
Chapter 9: Testing and Testability in ASP.NET MVC

Client-Side

Chapter 10: More Effective JavaScript

About the Author
Purchase Info
Digital Choices ?
MyLab & Mastering with Pearson eText is a complete digital substitute for a print value pack at a lower price.
eTextbook ?
With CourseSmart eTextbooks and eResources, you save up to 60% off the price of new print textbooks, and can switch between studying online or offline to suit your needs.
Once you have purchased your eTextbooks and added them to your CourseSmart bookshelf, you can access them anytime, anywhere.