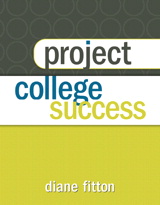 Description
Thousands of years ago, Galileo reportedly asserted, "You cannot teach a man anything. You can only help him discover it within himself." With a focus on project-based learning, it motivates students to explore student success topics and to discover how they can apply these skills to their college experience.
Project College Success shows that project-based learning actively engages and inspires students. Each 'project' introduces an authentic topic relevant to student success and then poses a question which directs student exploration. Through this guided inquiry, students work individually or in groups to discover and explore answers. Students can discuss, analyze, and evaluate various aspects of a current project topic. This approach sparks classroom dynamics, immerses students in diverse discussions, and prepares them for the workplace by promoting engagement and accelerated success through a learner-centered focus to achieve learning outcomes.
Table of Contents
CHAPTER 1 COURSE ESSENTIALS
Projects
1. Group Dynamics
2. Course Syllabi Master Chart
3. Course Syllabi Analysis
4. Syllabus-Related Terms
5. High School & College Comparison
6. College Grading Terms
7. Calculating Grade Point Average
8. First Semester Grades
9. Tracking Academic Progress
Capstone Project
CHAPTER 2 COLLEGE STUDENT
Projects
1. Know Thyself
2. Personal Motivation
3. Goal Setting
4. Time Management
5. Actions & Outcomes
6. Problem Solving
7. Time Management Situations
8. Stress Management
Capstone Project
CHAPTER 3 STUDY SKILLS
Projects
1. Study Skills Basics
2. Listening & Taking Notes
3. Learning Preference
4. Memory and Studying
5. Study Groups
6. Test Anxiety
7. Objective Tests
8. Essay Tests
9. Test Prep
10. Test Taking Skills
11. Personal Learning Portfolio
Capstone Project
CHAPTER 4 ACADEMIC READING
Projects
1. Reading and Annotating
2. Reading Rate Factors
3. Reading Across the Disciplines
4. Information Literacy
5. Essential Educational Technology
6. Facts and Opinions
7. Critical Thinking
8. Personal Study Guide
Capstone Project
CHAPTER 5 ACADEMIC WRITING
Projects
1. Writing Services
2. Writing Assignments
3. Modes of Communication
4. Writing Courses and Resources
5. Academic Essay
6. Response Essay
7. Analytical Essay
8. Evaluative Essay
9. Information Report
10. Research Paper
11. Summary and Abstract
12. Writing Skills Survey
Capstone Project
PART 2 EXPERIENCE COLLEGE
CHAPTER 6 CAMPUS RESOURCES
Projects
1. Academic Advising
2. Academic Resources
3. Counseling Services
4. Financial Aid
5. Library Services
6. Personal Safety and Security
7. Residential Life Services
8. Student Health Services
Capstone Project
CHAPTER 7 STUDENT LIFE
Projects
1. College Culture
2. Diversity and Pluralism
3. Civility On Campus
4. Etiquette and Netiquette
5. Campus Activities
6. Civic Engagement
7. Student Leadership
8. Financial Literacy
9. Dollars and Sense
Capstone Project
CHAPTER 8 PROGRAMS AND CAREER
Projects
1. General Education Requirements
2. Programs of Study
3. Delivery of Instruction
4. Semester by Semester
5. Majors and Careers
6. Complete to Compete
Capstone Project
CHAPTER 9 HIGHER EDUCATION
Projects
1. College Mission
2. Institutions of Higher Education
3. Academic Community
4. Academic Degrees
5. Academic Honesty and Integrity
6. College Policies A through Z
7. College Policy Interactions
Capstone Project
Purchase Info
ISBN-10: 0-321-85804-2
ISBN-13: 978-0-321-85804-7
Format: Alternate Binding
Digital Choices ?
MyLab & Mastering with Pearson eText is a complete digital substitute for a print value pack at a lower price.
MyLab & Mastering ?
MyLab & Mastering products deliver customizable content and highly personalized study paths, responsive learning tools, and real-time evaluation and diagnostics. MyLab & Mastering products help move students toward the moment that matters most—the moment of true understanding and learning.
eTextbook ?
With VitalSource eTextbooks, you save up to 60% off the price of new print textbooks, and can switch between studying online or offline to suit your needs.
Access your course materials on iPad, Android and Kindle devices with VitalSource Bookshelf, the textbook e-reader that helps you read, study and learn brilliantly. Features include:
See all of your eTextbooks at a glance and access them instantly anywhere, anytime from your Bookshelf - no backpack required.
Multiple ways to move between pages and sections including linked Table of Contents and Search make navigating eTextbooks a snap.
Highlight text with one click in your choice of colors. Add notes to highlighted passages. Even subscribe to your classmates' and instructors' highlights and notes to view in your book.
Scale images and text to any size with multi-level zoom without losing page clarity. Customize your page display and reading experience to create a personal learning experience that best suits you.
Print only the pages you need within limits set by publisher
Supports course materials that include rich media and interactivity like videos and quizzes
Easily copy/paste text passages for homework and papers
Supports assistive technologies for accessibility by vision and hearing impaired users
Print Choices
Alternative Options ?
Click on the titles below to learn more about these options.