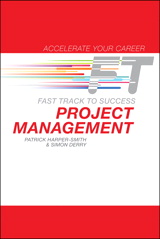 Description
Whether you've just started your career and want to know how to progress to the next level, or you are an experienced manager aspiring to a more senior position, Fast Track has the answers. Project management is no longer the preserve of the specialist. Effective managers now recognize that most operational activities aimed at achieving key team objectives can and should be considered projects and managed accordingly. Typically these projects will range from: complex operational tasks, one-off initiatives such as moving offices or installing a new IT system, to the development of new products and services. However, while many of the traditional project management principles still apply, most tools and techniques need to be adapted and simplified to make them relevant to modern businesses. For those that master these new skills, exciting career opportunities lie ahead that will accelerate functional managers into new areas. This book presents an integrated approach that will accelerate your project management skills, not just in getting tasks done, but in planning complete projects and managing your team to deliver the best possible outcomes.
Table of Contents
The Fast Track Way vii
About the Authors x
A Word of Thanks from the Authors xii
Project Management Fast Track xiv
How To Use This Book xviii
Fast-Track-Me.com xix
A AWARENESS 1
1 Project Management in a Nutshell 5
2 Project Management Audit 19
B BUSINESS FAST TRACK 29
3 Fast Track Top Ten 33
4 Technologies 71
5 Implementing Change 89
C CAREER FAST TRACK 103
6 The First Ten Weeks 107
7 Leading the Team 131
8 Getting to the Top 153
D DIRECTOR'S TOOLKIT 169
T1 Team Project Management Audit 173
T2 Planning Techniques 179
T3 Critical Path Analysis 191
T4 Risk Management 197
The Fast Track Way 201
Glossary 203
Index 209
Purchase Info ?
With CourseSmart eTextbooks and eResources, you save up to 60% off the price of new print textbooks, and can switch between studying online or offline to suit your needs.
Once you have purchased your eTextbooks and added them to your CourseSmart bookshelf, you can access them anytime, anywhere.
Buy Access
Project Management: Fast Track to Success, CourseSmart eTextbook
Format: Safari Book
$12.49 | ISBN-13: 978-0-13-296510-1