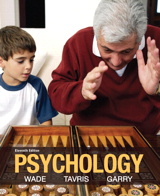 Description
Emphasizes critical thinking, culture, and gender
Psychology, 11/e, shows students why scientific and critical thinking is so important in the decisions they make. In clear, lively, warm prose, this edition continues the title's integration of gender, culture, and ethnicity. By the end, readers will learn how to interpret research and to address and resolve controversies.
MyPsychLab is an integral part of the Wade/Tavris/Garry program. Engaging activities and assessments provide a teaching and learning system that helps students think like a psychologist. With MyPsychLab, students can watch videos on psychological research and applications, participate in virtual classic experiments, and develop critical thinking skills through writing.
Psychology, 11/e, is available in a new DSM-5 Updated edition. To learn more, click here.
This title is available in a variety of formats – digital and print. Pearson offers its titles on the devices students love through Pearson's MyLab products, CourseSmart, Amazon, and more.
Table of Contents
In this Section:
1. Brief Table of Contents
2. Full Table of Contents
---
1. Brief Table of Contents
Chapter 1: What Is Psychology?
Chapter 2: How Psychologists Do Research
Chapter 3: Genes, Evolution, and Environment
Chapter 4: The Brain and Nervous System
Chapter 5: Body Rhythms and Mental States
Chapter 6: Sensation and Perception
Chapter 7: Learning and Conditioning
Chapter 8: Behavior in Social and Cultural Context
Chapter 9: Thinking and Intelligence
Chapter 10: Memory
Chapter 11: Emotion, Stress, and Health
Chapter 12: Motivation
Chapter 13: Development Over the Life Span
Chapter 14: Theories of Personality
Chapter 15: Psychological Disorders
Chapter 16: Approaches to Treatment and Therapy
---
2. Full Table of Contents
Chapter 1: What Is Psychology?
Psychology, Pseudoscience, and Popular Opinion
Thinking Critically and Creatively about Psychology
Psychology's Past: From the Armchair to the
Laboratory
Psychology's Present: The Four Perspectives of
Psychological Science
What Psychologists Do


Chapter 2: How Psychologists Do Research
What Makes Psychological Research Scientific?
Descriptive Studies: Establishing the Facts
Correlational Studies: Looking for Relationships
Experiments: Hunting for Causes 49
Evaluating the Findings
Keeping the Enterprise Ethical
Chapter 3: Genes, Evolution, and Environment
Unlocking the Secrets of Genes
The Genetics of Similarity
Our Human Heritage: Courtship and Mating
The Genetics of Difference
Our Human Diversity: The Case of Intelligence
Chapter 4: The Brain and Nervous System
The Nervous System: A Basic Blueprint
Communication in the Nervous System
Mapping the Brain
A Tour through the Brain
The Two Hemispheres of the Brain
The Flexible Brain
Chapter 5: Body Rhythms and Mental States
Biological Rhythms: The Tides of Experience
The Rhythms of Sleep
Exploring the Dream World
The Riddle of Hypnosis
Consciousness-Altering Drugs
Chapter 6: Sensation and Perception
Our Sensational Senses
Vision
Hearing
Other Senses
Perceptual Powers: Origins and Influences
Chapter 7: Learning and Conditioning
Classical Conditioning
Classical Conditioning in Real Life
Operant Conditioning
Principles of Operant Conditioning
Operant Conditioning in Real Life
Learning and the Mind
Chapter8: Behavior in Social and Cultural Context
Roles and Rules
Social Influences on Beliefs and Behavior
Individuals in Groups
Us versus Them: Group Identity
Group Conflict and Prejudice
The Question of Human Nature
Chapter 9: Thinking and Intelligence
Thought: Using What We Know
Reasoning Rationally
Barriers to Reasoning Rationally
Measuring Intelligence: The Psychometric Approach
Dissecting Intelligence: The Cognitive Approach
Animal Minds
Chapter 10: Memory
Reconstructing the Past
Memory and the Power of Suggestion
In Pursuit of Memory
The Three-Box Model of Memory
The Biology of Memory
How We Remember
Why We Forget 3
Autobiographical Memories
Chapter 11: Emotion, Stress, and Health
The Nature of Emotion
Emotion and Culture
The Nature of Stress
Stress and Emotion
Coping with Stress
Chapter 12: Motivation
The Hungry Animal: Motives to Eat
The Social Animal: Motives to Love
The Erotic Animal: Motives for Sex
The Competent Animal: Motives to Achieve
Chapter 13: Development Over the Life Span
From Conception through the First Year
Cognitive Development
Moral Development
Gender Development
Adolescence
Adulthood
The Wellsprings of Resilience
Chapter 14: Theories of Personality
Psychodynamic Theories of Personality
The Modern Study of Personality
Genetic Influences on Personality
Environmental Influences on Personality
Cultural Influences on Personality
The Inner Experience
Chapter 15: Psychological Disorders
Diagnosing Mental Disorders
Anxiety Disorders
Mood Disorders
Personality Disorders
Drug Abuse and Addiction
Dissociative Identity Disorder
Schizophrenia
Chapter 16: Approaches to Treatment and Therapy
Biological Treatments for Mental Disorders
Major Schools of Psychotherapy
Evaluating Psychotherapy
The Value and Values of Psychotherapy