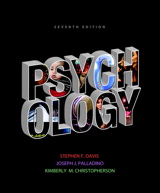 Description
For introductory psychology courses at two and four year institutions.
Accessible, Active, and Applied with a focus on different learning styles
Through this book's accessible, active, and applied approach, users determine whether their learning style strengths are verbal/linguistic, logical/mathematical, visual/spatial, or interpersonal. Throughout the text, personalized content-specific study tips are correlated to these specific styles allowing the student to focus on learning style strengths and weaknesses. By studying according to their own personal learning style, Psychology helps students become more effective and efficient learners. Up-to-date research and a seamless narrative keeps students engaged in the study of Psychology.
Table of Contents
BRIEF TABLE OF CONTENTS
CHAPTER 1 Psychology, Research, and You
CHAPTER 2 Behavioral Neuroscience
CHAPTER 3 Sensation and Perception
CHAPTER 4 Memory
CHAPTER 5 States of Consciousness
CHAPTER 6 Learning
CHAPTER 7 Motivation and Emotion
CHAPTER 8 Thinking, Language, and Intelligence
CHAPTER 9 Development Across the Lifespan
CHAPTER 10 Sex and Gender
CHATPER 11 Personality
CHAPTER 12 Psychological Disorders
CHAPTER 13 Therapy
CHAPTER 14 Health Psychology
CHAPTER 15 Social Psychology: The Individual in Society
CHAPTER 16 Industrial, Organizational, and Other Applications of Psychology
Purchase Info ?
With CourseSmart eTextbooks and eResources, you save up to 60% off the price of new print textbooks, and can switch between studying online or offline to suit your needs.
Once you have purchased your eTextbooks and added them to your CourseSmart bookshelf, you can access them anytime, anywhere.
Buy Access
Psychology, CourseSmart eTextbook, 7th Edition
Format: Safari Book
$111.99 | ISBN-13: 978-0-205-84952-9