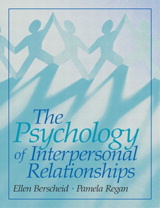 Description
For upper-division undergraduate and graduate level social, behavioral, biological, and health science courses in the psychology of interpersonal relationships.
This textbook is intended to provide an integrated and organized foundation for students that will inform their own specialized pursuits within psychology and other disciplines. This brief but comprehensive introduction text is intended to reflect the fact that relationship science has proved to be an intellectually cohesive and cumulative endeavor, one with vast potential to advance progress in most areas of psychological inquiry as well as those of many other disciplines.
Table of Contents
I. RELATIONSHIPS: THE WEB OF LIFE.
1. First Relationships.
2. Relationships and Health.
II. RELATIONSHIP SCIENCE.
3. The Development of Relationship Science.
4. The Concept of Relationship.
5. Varieties of Relationship.
III. RELATIONSHIP INITIATION AND DEVELOPMENT.
6. Birth of a Relationship.
7. Relationship Growth and Maintenance.
IV. RELATIONSHIP PROCESSES.
8. Cognitive Processes.
9. Affective Processes.
10. Dispositional Influences.
V. MATING RELATIONSHIPS.
11. Love.
12. Mate Selection and Sex.
VI. RELATIONSHIPS OVER TIME.
13. Satisfaction and Stability.
14. Intervention and Dissolution.
Purchase Info ?
With CourseSmart eTextbooks and eResources, you save up to 60% off the price of new print textbooks, and can switch between studying online or offline to suit your needs.
Once you have purchased your eTextbooks and added them to your CourseSmart bookshelf, you can access them anytime, anywhere.
Buy Access
Psychology of Interpersonal Relationships, CourseSmart eTextbook, The
Format: Safari Book
$57.99 | ISBN-13: 978-0-13-128782-2