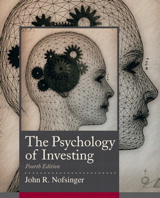 Description
A supplement for undergraduate and graduate Investments courses.

See the decision-making process behind investments.

The Psychology of Investing is the first text of its kind to delve into the fascinating subject of how psychology affects investing. Its unique coverage describes how investors actually behave, the reasons and causes of that behavior, why the behavior hurts their wealth, and what they can do about it.

The fourth edition addresses the current financial crisis, has a new chapter on framing effects, and contains new evidence and ideas in every chapter.


Table of Contents
Chapter 1: Psychology and Finance
Chapter 2: Overconfidence
Chapter 3: Pride and Regret
Chapter 4: Risk Perceptions
Chapter 5: Decision Frames
Chapter 6: Mental Accounting
Chapter 7: Forming Portfolios
Chapter 8: Representativeness and Familiarity
Chapter 9: Social Interaction and Investing
Chapter 10: Emotion and Investment Decisions
Chapter 11: Self-Control and Decision Making


Purchase Info ?
With CourseSmart eTextbooks and eResources, you save up to 60% off the price of new print textbooks, and can switch between studying online or offline to suit your needs.
Once you have purchased your eTextbooks and added them to your CourseSmart bookshelf, you can access them anytime, anywhere.
Buy Access
Psychology of Investing, CourseSmart eTextbook, 4th Edition
Format: Safari Book
$20.99 | ISBN-13: 978-0-13-611780-3