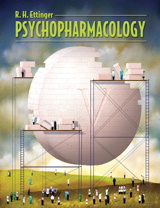 Description
With the increase in the prevalence of psychiatric and behavioral disorders and the rapid advances in the development of new drug therapies, there is an ever increasing need to present the science behind these developments to undergraduate and pre professional students. Students and educators are confronted with often conflicting and over-exaggerated claims about the effectiveness of drugs and just how they work. As recently as ten years ago, the mechanisms of action of many medications prescribed for common psychological disorders were not well understood, even by the scientists developing them. Now, drug treatment has advanced to a stage where drugs are designed for their effects on receptors, membrane proteins, or secondary messengers within specific cells in the brain.
Unfortunately, undergraduate students do not always get a sufficient introduction to neural and physiological sciences, so they are unprepared to approach courses in psychopharmacology. This text will introduce a sufficient background in neuroanatomy and physiology so that students can comprehend the necessary details of drug action. This text will also present pharmacology in the context of the behavioral disorders they are designed to treat, not necessarily by traditional drug classification. Students are familiar with the major diagnostic categories (affective disorders, psychoses, attention disorders, etc) so presenting pharmacology as it pertains to these familiar disorders strengthens their understanding of the physiology and neurochemistry underlying them as well as the approaches to their treatment. Students in many applied fields need accessible information that can be built upon in professional programs as well as information that is both relevant and applicable immediately. This text will provide both. As potential adopters of this text contemplate the range of psychopharmacology texts now available, they might ask how a particular text strengthens a traditional psychology curriculum. Does it build upon what my students already have, or does it introduce pharmacology from an unfamiliar context? Many textbooks seem to do the latter.
Table of Contents
Chapter 1: Organization and Function of the Nervous System
Chapter 2:Psychopharmacology: Pharmacokinetics and Pharmacodynamics
Chapter 3:Mood Disorders: Major Depression and Bipolar Disorders
Chapter 4: Anxiety Disorders: Panic, Generalized Anxiety, and Obsessive Compulsive Disorders
Chapter 5:Psychotic Disorders: Schizophrenia
Chapter 6:Attention and Developmental Disorders: Attention-Deficit/Hyperactivity Disorder and Pervasive Developmental Disorders
Chapter 7:The Pharmacology of Opiates and Analgesia
Chapter 8:Substance Abuse and the Neurobiology of Addiction
Chapter 9:The Pharmacology of Scheduled Psychoactive Drugs: Psychostimulants, Psychedelics, and Marijuana
Chapter 10:The Pharmacology of Non Scheduled Psychoactive Drugs: Alcohol, Nicotine, and Caffeine
Purchase Info ?
With CourseSmart eTextbooks and eResources, you save up to 60% off the price of new print textbooks, and can switch between studying online or offline to suit your needs.
Once you have purchased your eTextbooks and added them to your CourseSmart bookshelf, you can access them anytime, anywhere.
Buy Access
Psychopharmacology, CourseSmart eTextbook
Format: Safari Book
$54.99 | ISBN-13: 978-0-13-601313-6