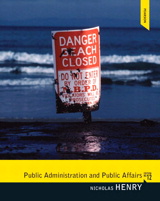 Description
Updated in its 12 edition, Public Administration and Public Affairs shows readers how to govern efficiently, effectively, and responsibly in an age of political corruption and crises in public finance. With a continuing and corroding crisis occurring, as well as greater governance by nonprofit organizations and private contractors, it is vital that readers are given the skills and tools to lead in such an environment. Using easy-to-understand metaphors and an accessible writing style, Public Administration and Public Affairs shows its readers how to govern better, preparing them for a career in public administration.
Table of Contents
Part I: In Defense of Governing Well
Chapter 1: Big Democracy, Big Bureaucracy
Chapter 2 Paradigms of Public Administration

Part II: Public and Nonprofit Organizations
Chapter 3 The Threads of Organization: Theories
Chapter 4 The Fabric of Organizations: Forces
Chapter 5 The Fibres of Organizations: People

Part III: Public Management: Curbing Corruption, Enhancing Efficiency
Chapter 6 Clarifying Complexity: The Public's Information Resource
Chapter 7 The Constant Quest: Efficient and Effective Governance
Chapter 8 The Public Trough: Financing and Budgeting Governments
Chapter 9 Managing Human Capital in the Public and Nonprofit Sectors

Part IV: Implementing Public Policy
Chapter 10 Understanding and Improving Public Policy
Chapter 11 Intersectoral Administration
Chapter 12 Intergovernmental Administration
Chapter 13 Toward a Bureaucratic Ethic

Appendix: Becoming a Public or Nonprofit Administrator
Purchase Info
ISBN-10: 0-205-85586-5
ISBN-13: 978-0-205-85586-5
Format: Book
This publication is not currently for sale.