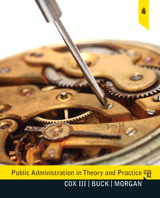 Description
Hailed for its timelessness and timeliness, Public Administration in Theory and Practice examines public administration from a normative perspective, and provides students with an understanding of the practice of public administration. Combining historical, contextual and theoretical perspectives, this text give students a truly comprehensive overview of the discipline and focuses on the practical implications of public administration theory.
Table of Contents
PREFACE
INTRODUCTION
Part I: NORMATIVE FOUNDATIONS
Chapter One: HISTORY OF PUBLIC ADMINISTRATION AS AN ACADEMIC DISCIPLINE
Chapter Two: ETHICS IN PUBLIC ADMINISTRATION
Chapter Three: NORMATIVE FOUNDATIONS OF PUBLIC ADMINISTRATION
Part II: THE MANAGEMENT SUBPROCESSES OF PUBLIC ADMINISTRATION
Chapter Four: A CONCEPTUAL HISTORY OF BUDGETING
Chapter Five: A CONCEPTUAL HISTORY OF PUBLIC PERSONNEL MANAGEMENT
Chapter Six: A CONCEPTUAL HISTORY OFADMINISTRATIVE LAW
Chapter Seven: A CONCEPTUAL HISTORY OF POLICY ANALYSIS
Part III: PUBLIC ADMINISTRATION AS ORGANIZATION THEORY
Chapter Eight: ORGANIZATION THEORY AS A PROBLEM OF STRUCTURE
Chapter Nine: ORGANIZATION THEORY AS A PROBLEM OF BEHAVIOR
Chapter Ten: ORGANIZATION THEORY AS A PROBLEM OF DEMOCRACY
Part IV: IDENTIFYING AND IMPLEMENTING CHANGE
Chapter Eleven: THEORY AND PRACTICE OF PLANNED CHANGE
Chapter Twelve: THEORY AND PRACTICE OF PUBLIC SECTOR STRATEGIC MANAGEMENT
Chapter Thirteen: THEORY AND PRACTICE OF ORGANIZATION DEVELOPMENT
Part V: POLITICS AND ADMINISTRATION
Chapter Fourteen: THE LEGISLATURE IN ADMINISTRATIVE AND ORGANIZATIONAL PERSPECTIVE
Chapter Fifteen: ADMINISTRATION IN COMPARATIVE PERSPECTIVE
Chapter Sixteen: AMERICAN POLITICAL THEORY AND THE BUREAUCRACY
SUGGESTED ADDITIONAL READINGS
INDEX
Purchase Info ?
With CourseSmart eTextbooks and eResources, you save up to 60% off the price of new print textbooks, and can switch between studying online or offline to suit your needs.
Once you have purchased your eTextbooks and added them to your CourseSmart bookshelf, you can access them anytime, anywhere.
Buy Access
Public Administration in Theory and Practice, CourseSmart eTextbook
Format: Safari Book
$31.99 | ISBN-13: 978-0-205-78124-9