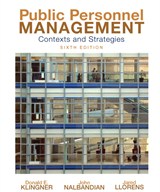 Description
Distinguished by its coherent values perspective, Public Personnel Management focuses on the conflicts, political processes, and management techniques that provide the context for personnel administration in the public sector.
Organized around the four principal personnel functions that must be fulfilled in any complex organization, this book provides a comprehensive exploration of the planning, acquisition, development, and sanctions within public personnel management.
Table of Contents
PART I INTRODUCTION
1. The World of Public Personnel Management
Exercise: Values and Functions in Public Personnel Management
Case Study: Political Clearance for "Buck" Pleake
2. Doing Public HRM in the United States
Case Study: Choosing a Municipal Personnel Director
PART II PLANNING
3. Strategic Thinking about HRM
Exercise: Evaluating Your Human Resources Management System
4. The HR Role in Planning, Budgeting, Performance Management and Program Evaluation
Case Study #1: A Day In The Life Of A City Manager
Case Study #2: Privatization
Case Study #3: Between A Rock And A Hard Place
5. Defining and Organizing Work
Case Study: Who's Most Qualified to be Minority Recruitment Director?
6. Rewarding Work: Pay and Benefits
Case Study: Reducing Unscheduled Absenteeism
PART III ACQUISITION
7. Social Equity and Diversity Management
Exercise: Equal Employment Opportunity or Affirmative Action?
Case Study #1: Social Equity vs. Employee Rights
Case Study #2: From EEO & AA to Diversity Management
8. Recruitment, Selection and Promotion
Exercise: Driving Forces of Change in Recruitment and Selection
Case Study: Information Technology Recruitment
PART IV DEVELOPMENT
9. Leadership and Performance in Turbulent Times
Case Study #1: Requiem for a Good Soldier
Case Study #2: Recruiting a Water Plant Technician
Exercise: Psychological Contracts
10. Training, Education and Staff Development
Case Study #1: Develop A Diversity Training Program
Case Study #2: Training Vignettes
Case Study #3: "How Should This Management Team Work Together?"
11. Performance Appraisal
Case Study: Evaluating Appraisal Instruments
12. Safety and Health
Case Study #1: Developing a Workplace AIDS Policy
Case Study #2: Workplace Violence: "In Hindsight, We Could See it Coming"
PART V SANCTIONS
13. Organizational Justice
Case Study: Juan Hernandez vs. The County
14. Collective Bargaining
Case Study: Good Management Or Bargaining In Bad Faith?
Purchase Info ?
With CourseSmart eTextbooks and eResources, you save up to 60% off the price of new print textbooks, and can switch between studying online or offline to suit your needs.
Once you have purchased your eTextbooks and added them to your CourseSmart bookshelf, you can access them anytime, anywhere.
Buy Access
Public Personnel Management, CourseSmart eTextbook, 6th Edition
Format: Safari Book
$55.99 | ISBN-13: 978-0-205-75046-7