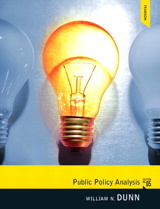 Description
Public Policy Analysis, the most widely cited book on the subject, provides readers with a comprehensive methodology of public policy analysis.
Starting from the premise that policy analysis is an applied social science discipline designed for solving practical problems facing public and nonprofit organizations, the book bridges the gap between theory and practice. It provides practical skills for conducting policy analysis and communicating findings through memos, position papers, and other forms of structured analytical writing. The book asks readers to critically anazlye the arguments of policy practitioners as well as political scientists, economists, and political philosophers.
Table of Contents
PART I METHODOLOGY OF POLICYANALYSIS
CHAPTER 1 The Process of Policy Analysis
CHAPTER 2 Policy Analysis in the Policy Process
PART II METHODS OF POLICY ANALYSIS
CHAPTER 3 Structuring Policy Problems
CHAPTER 4 Forecasting Expected Policy Outcomes
CHAPTER 5 Prescribing Preferred Policies
CHAPTER 6 Monitoring Observed Policy Outcomes
CHAPTER 7 Evaluating Policy Performance
PART III METHODS OF POLICY COMMUNICATION
CHAPTER 8 Developing Policy Arguments
CHAPTER 9 Communicating Policy Analysis
APPENDIX 1 The Policy Issue Paper
APPENDIX 2 The Executive Summary
APPENDIX 3 Policy Memorandum
APPENDIX 4 Planning Oral Briefings
Purchase Info ?
With CourseSmart eTextbooks and eResources, you save up to 60% off the price of new print textbooks, and can switch between studying online or offline to suit your needs.
Once you have purchased your eTextbooks and added them to your CourseSmart bookshelf, you can access them anytime, anywhere.
Buy Access
Public Policy Analysis, CourseSmart eTextbook, 5th Edition
Format: Safari Book
$57.99 | ISBN-13: 978-0-205-05643-9